Your music producer studio desk is the centerpiece and an integral component of your home studio. Recording studio furniture can optimize your workflow, streamline your music/podcast/video studio production, and ensure the safety of your equipment.
Building recording studio workstations is daunting and time-consuming, especially if you are a newbie and do not know much about the essential equipment and tools. It would help streamline the music production by using different equipment and devices, such as microphones, headphones, DAW, audio interfaces, and accessories.
Recording Studio Desks
However, investing in a durable and spacious studio desk is essential to accommodate your gear. There are dozens of brands and hundreds of music studio desks available. However, not all are reliable, spacious, durable, and cost-effective. We have chosen the following products based on various factors, such as:
The sturdiness of the item to hold your equipment
Style, design, size, height, racks, and functionality
Enough space to accommodate different tools
Does it have a keyboard tray and rack space
So, without further ado, let us discuss the details of each product to help you make an informed decision and choose a product that best fits your needs and budget.
Table of Contents
1. Armocity Recording Studio Desk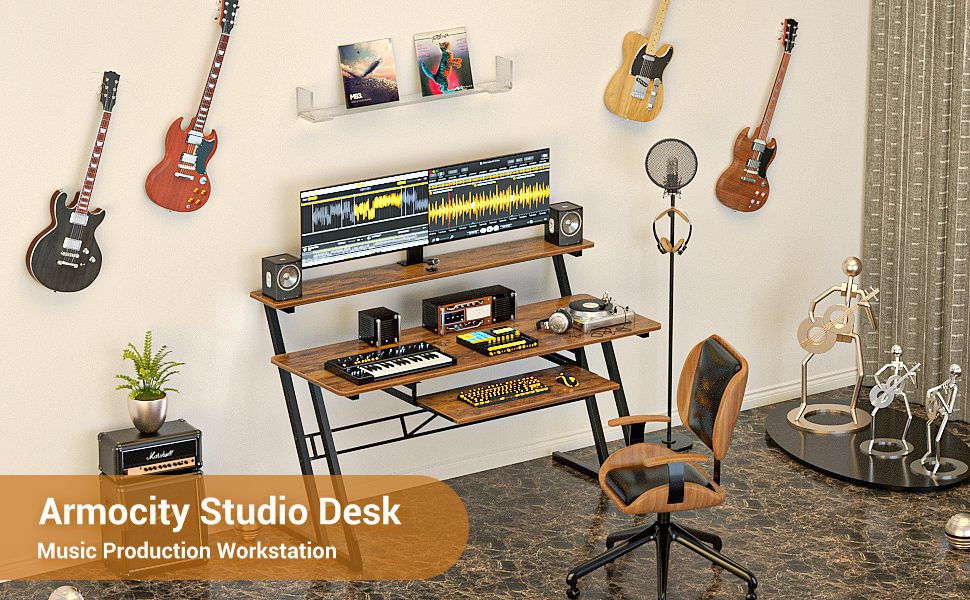 Armocity is one of the most reputable brands that manufactures premium-quality studio desks for musicians. The studio desk by Armocity has an elevated stand and a 47-inch shelf to accommodate two monitors.
Armocity is one of the best home studio desks, featuring an extensive desktop design with a pull-out tray for your keyboard. It has three layers, and each layer has enough space to accommodate your equipment, including monitors, keyboards, speakers, audio gear, mouse, microphone, external drives, etc.
In addition, this music studio desk will fit your home studio and help you streamline writing, producing, mixing, recording, and other tasks. You can use this desk for multiple purposes: a DJ table, studio workstation desk, and music production desk.
2. Gator Frameworks Elite Series Studio Desk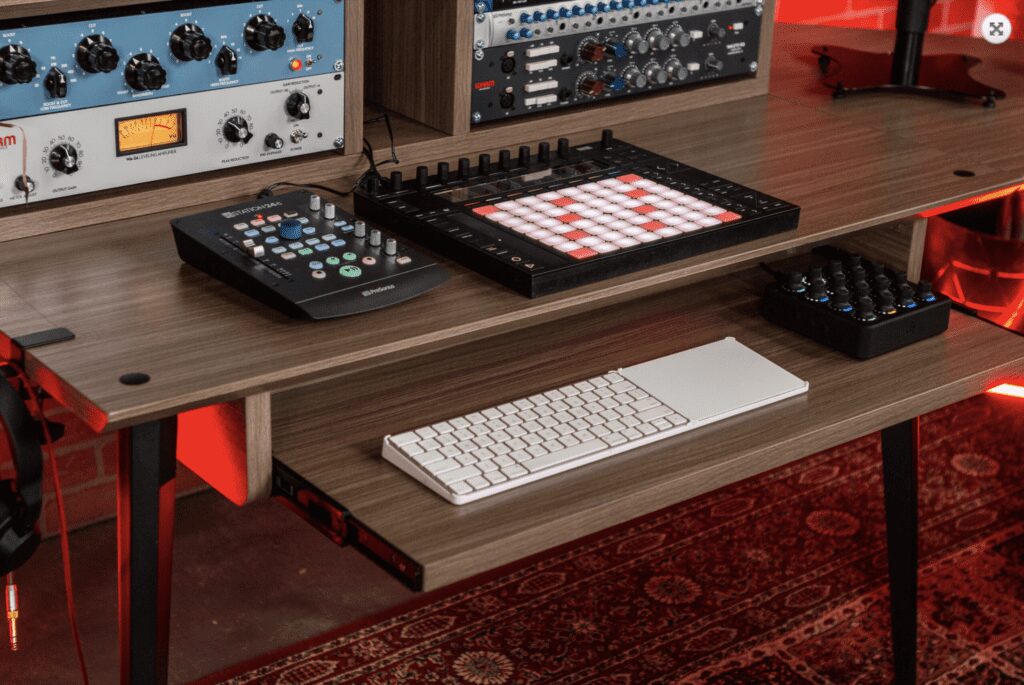 Gator Frameworks Studio desk is stylish, ergonomic, and comfortable for home studios. It is an ideal product for home recording, streaming, podcasts, broadcasts, music production, content development, and gaming.
Gator Studio Desk has a textured maple finish that perfectly aligns with your studio's interior décor. Likewise, it has a double-level design and a rack system you can customize based on your needs to get plenty of space for your studio's equipment, including microphones, speakers, and audio interfaces.
You can use the spacious upper platform to accommodate multiple monitors or a flat display screen. The upper platform measures 47.2 x 14 inches in length and depth.
Similarly, the 17-inch depth of the lower platform is a keyboard tray and is spacious enough to accommodate your gear, such as a mixer, keyboard, and MIDI controller.
Unlike other music production studio desks, Gator has integrated rack mount shelves with eight units to accommodate dynamic processors, audio interfaces, preamps, a keyboard, MIDI controller, and a note-keyboard. It has pre-bore holes on the lower side for accurate cable management.
3. LEEKOUS Recording Studio Desk with Keyboard Tray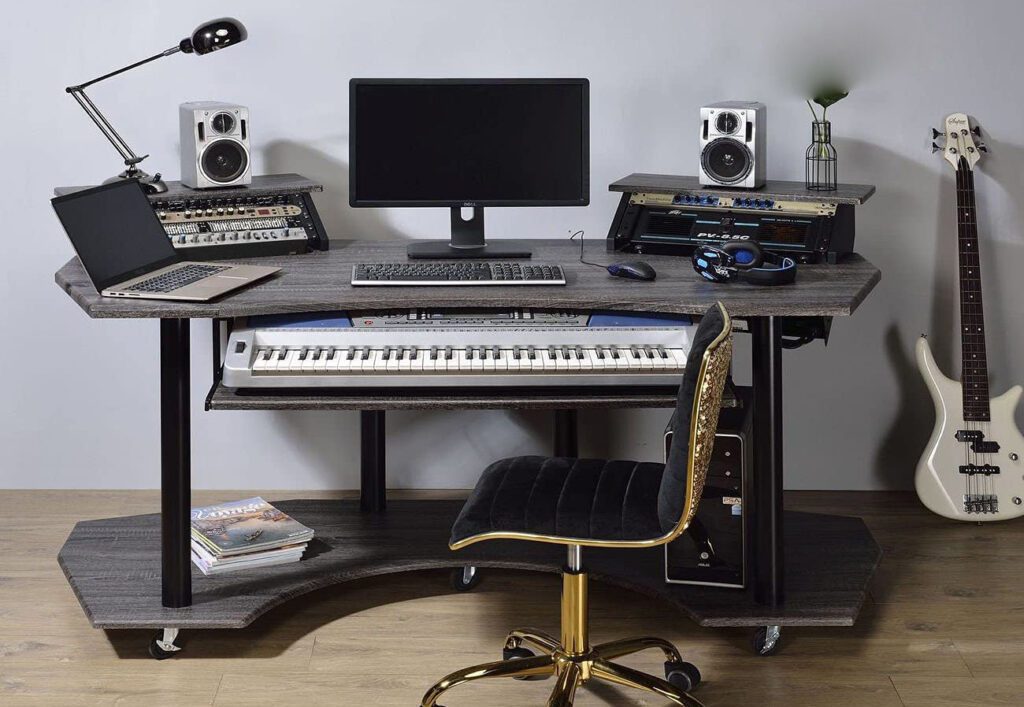 LEEKOUS is one of the best studio desks for musicians and home studio music producers. Made of natural black oak and finished with wood and metal, the LEEKOUS recording desk studio is durable, sturdy, and spacious enough to accommodate your studio's gear.
It has a pull-out keyboard tray, a bottom shelf, and two stands for speakers. The manufacturer has included caster wheels, allowing you to move the studio desk quickly and place it anywhere in the studio based on your preferences.
The extensive desktop design, plenty of space, and organization options make LEEKOUS the most versatile, reliable, and functional studio desk for your budget home recording studio. In addition, it has a multi-function cabinet to display speakers, monitors, books, and documents.
On the other hand, you can use the lower shelf for more oversized items. You can also use LEEKOUS for various other purposes, such as a gaming station, home office, computer, or study desk. 
4. On-Stage Wood Studio Workstation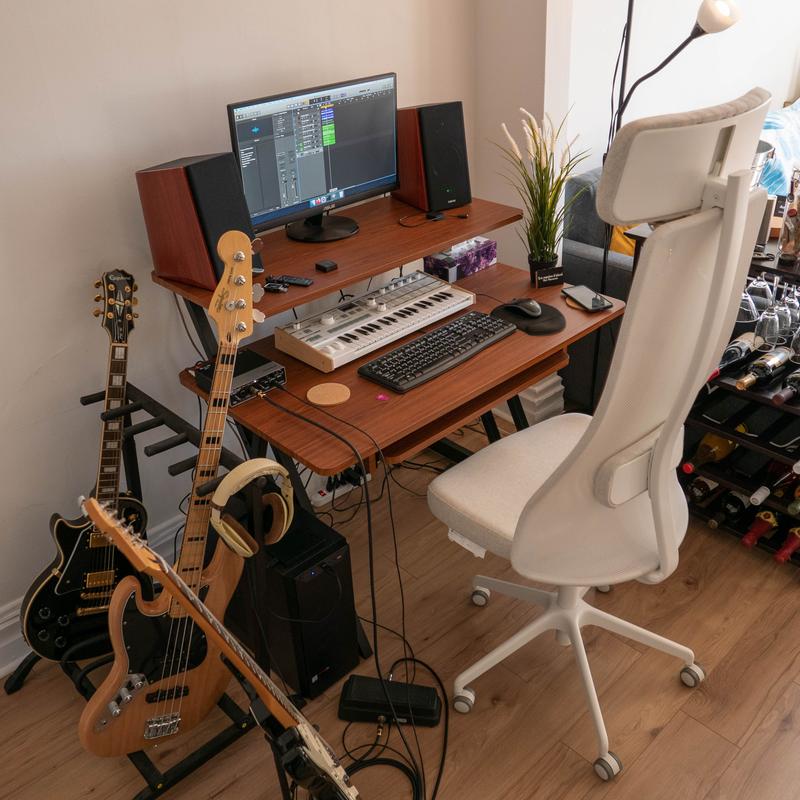 On-Stage Studio Workstation is one of the bestselling home studio desks, featuring an ergonomic design, sturdy steel frame, and ample desktop space for improved comfort and streamlined workflow.
The tube frame made of industrial-grade steel is durable enough to accommodate and support your studio's gear, such as a keyboard, mouse, computer, monitor, speakers, microphones, headsets, headphones, mixer, and MIDI controller.  
In addition, the On-Stage Wood Studio Workstation is stable, customizable, and ergonomic, thanks to the  Z-frame steel construction. It also has a slide-out keyboard tray. Investing in this music producer studio desk is wise to optimize your workflow.
5. Glorious Sound Desk Pro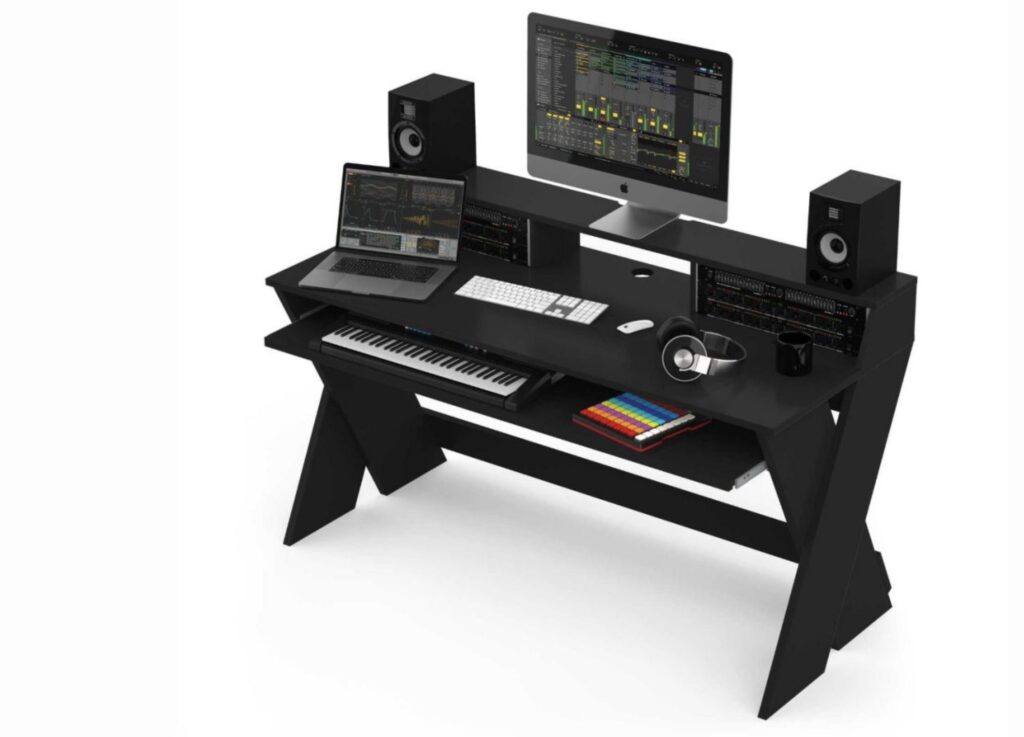 The Glorious Desk Pro is ideal for your budget home recording studio with enough space to set up or accommodate a computer, laptop, monitor, audio interface, MIDI controllers, a master keyboard, and synths.
The Glorious Sound Desk Pro has an ergonomic design with three levels that ensures plenty of space for your gear, including a keyboard tray. You can leverage the two 3U racks slots to set up 19-inch devices and tools, such as compressors and equalizers.
The Glorious Desk Pro has a pull-out drawer to fit a keyboard of up to 88 keys. You can place your audio interface or laptop in the central compartment. Moreover, you can mount the drawer in four different positions and achieve better cable management with plenty of ducts. So, all these features make Glorious Desk Pro one of the best studio desks for musicians.
6. Monoprice Home Studio Desk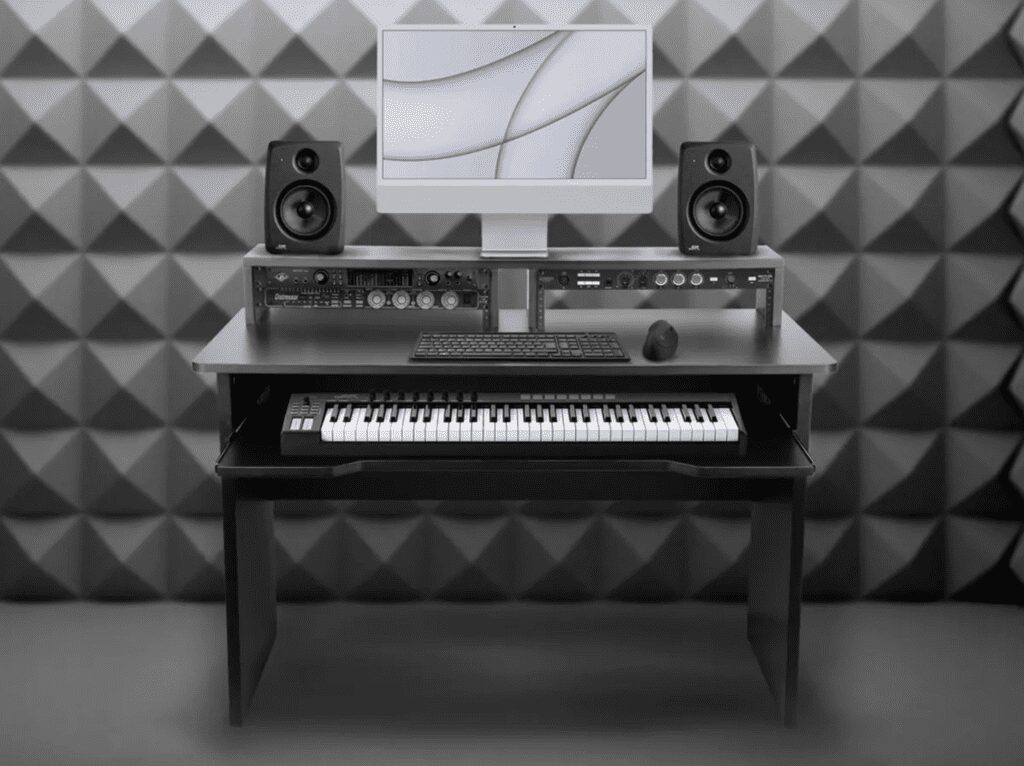 Monoprice Home Studio Desk has a durable construction thanks to the commercial-grade MFC material, unlike many other studio desks made from MDF material. The studio desk offers plenty of space to accommodate your computer, monitor, music keyboard, speakers, microphones, and mixers.
It measures 47 x 2.5 inches in length and depth, offering additional space to place your DAW, Midi controller, and audio interface. Monoprice is an affordable product to optimize music production, improve your workflow, and help you make the most out of your home studio.
7. DlandHome Recording Studio Desk & Workstation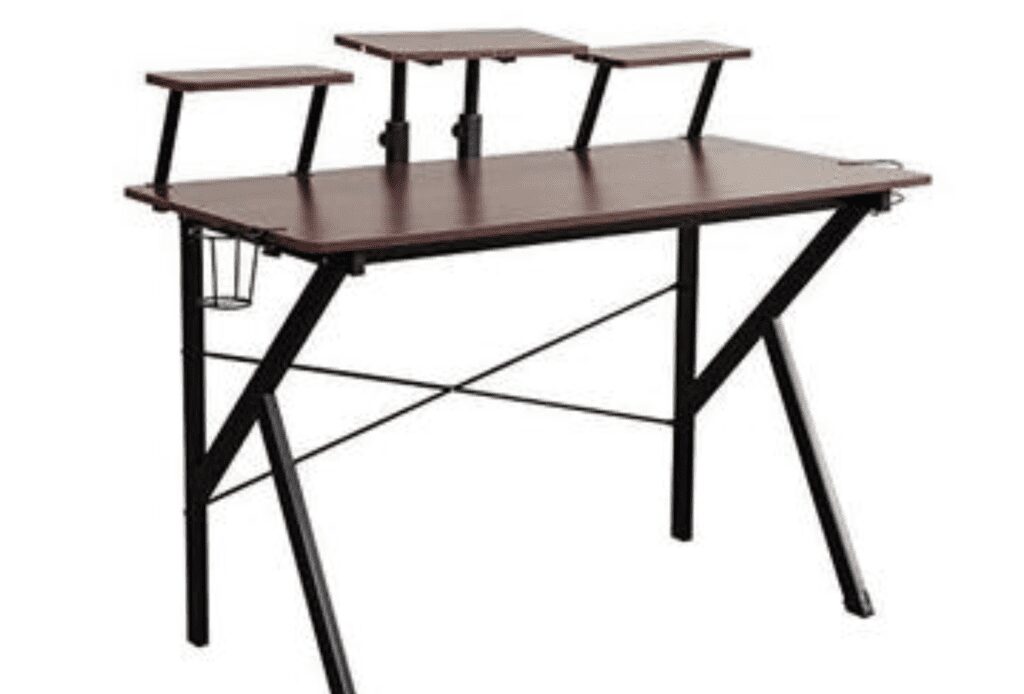 DlandHome is a multi-purpose studio desk, meaning you can use it as a workstation, music, studio, speaker, computer, and writing desk. Made of E1 degree wood material, DlandHome is durable enough to withstand scratches and friction.
The dimensions of this studio desk are 47.2 x 23.6 x 29.7 inches in length, width, and height, respectively. Besides, it has a supper panel that you can adjust based on your needs/preferences, a basket hook, and a cup holder.
Final Words on Studio Desks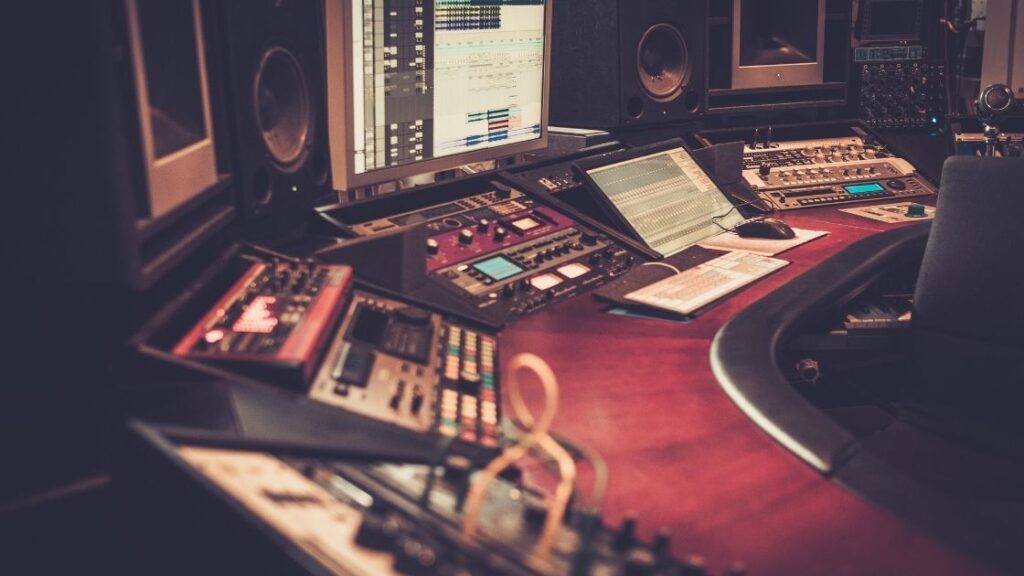 With so many brands and products, choosing the suitable studio desk for your home studio is crucial to match the interior décor and ensure better music production, voiceover work, podcasting, video streaming, etc.
Durability to provide the ultimate support, sturdiness, spaciousness, dimensions, functionality, keyboard tray, and price are a few factors to consider when choosing the best studio desk for your budget home recording studio. In addition, the studio desk you select must hole an audio interface, studio monitors, and computer components.
Remember that no single home studio desk is perfect, and each comes with its pros and cons. However, you can select/purchase a studio desk that aligns with your unique needs and creative space. Until Next Time!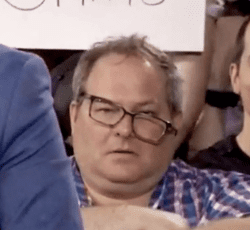 Latest posts by Juan Louder
(see all)
SoundStudiomagic.com is a participant in the Amazon Services LLC Associates Program, an affiliate advertising program designed to provide a means for sites to earn advertising fees by advertising and linking to Amazon.com. We also participate in other affiliate programs which compensate us for referring traffic.