I went down to the Country Music Hall of Fame in Nashville, Tennessee to capture the world's greatest collection of hit-making country music guitars. I saw everything from the oldest classics to new country artist guitars and everything in between.
I've selected a few of the very best country music guitars for your viewing pleasure. I hope you enjoy this collection of classic guitars that were responsible for thousands of hits.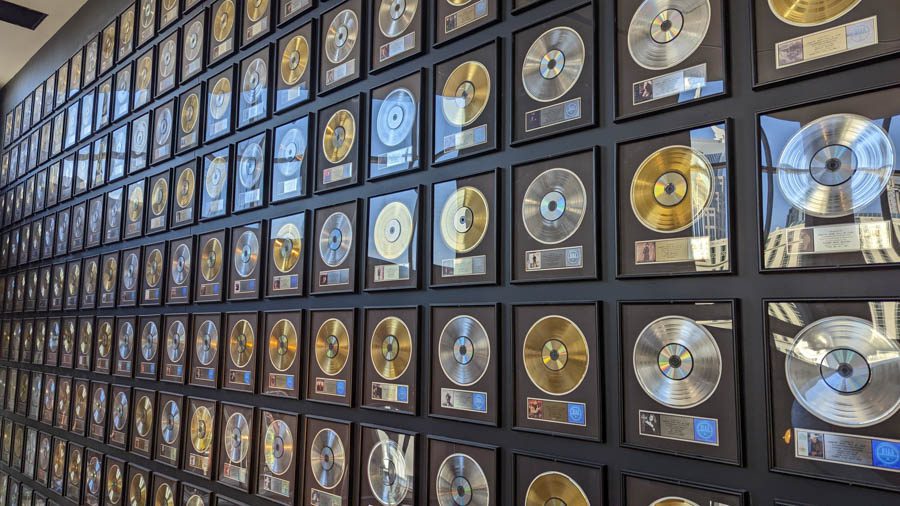 Table of Contents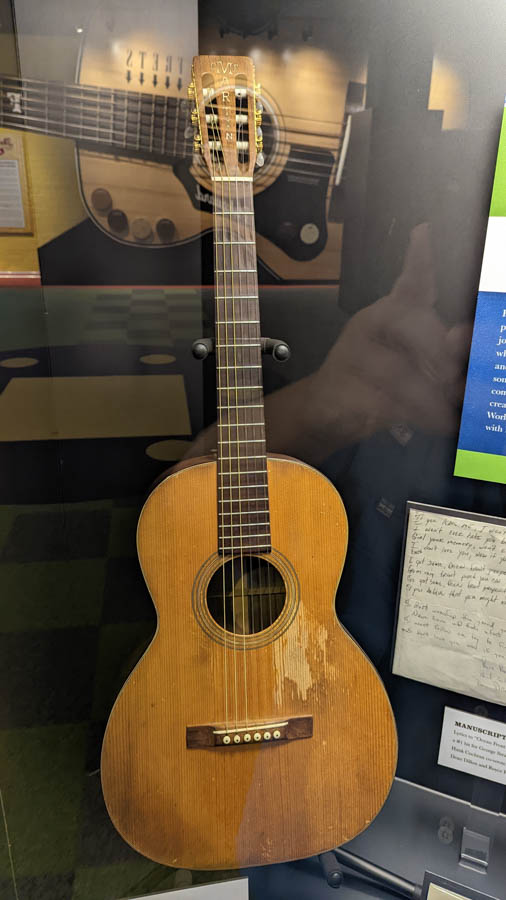 Hank Cochran
1964 Martin 00-21NY
Hank Cochran used this 1964 Martin 00-21NY to write songs.
---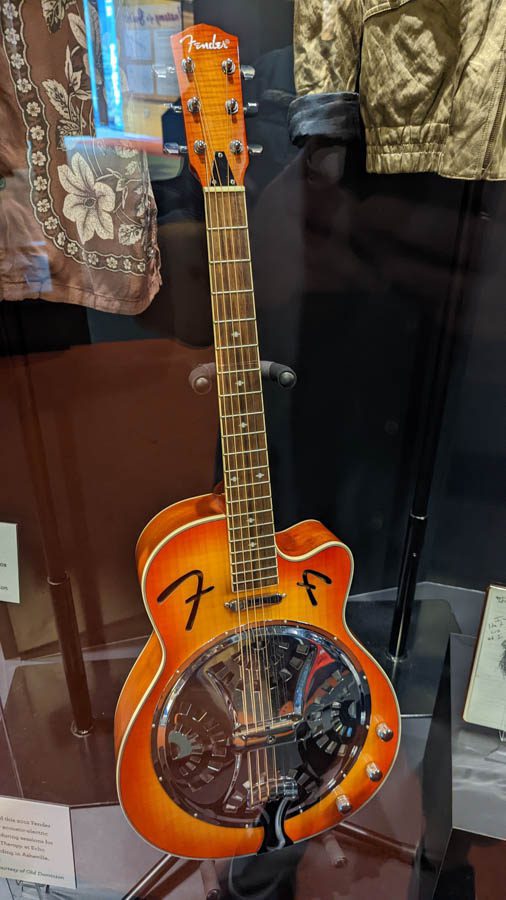 Trevor Rosen
2012 Fender FR50CE
Trevor Rosen used this 2012 Fender FR50CE cutaway acoustic-electric resonator guitar during sessions for Time, Tequila & Therapy at Echo Mountain Recording in Asheville, North Carolina.
---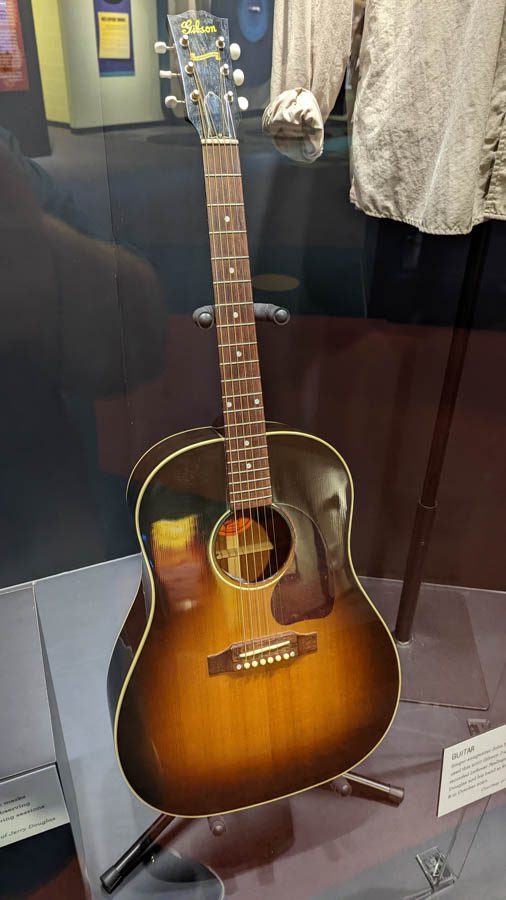 John Hiatt
Gibson J-45
Singer-songwriter John Hiatt used this 2007 Gibson J-45 to record Leftover Feelings with Jerry Douglas and his band at RCA Studio B in October 2020.
---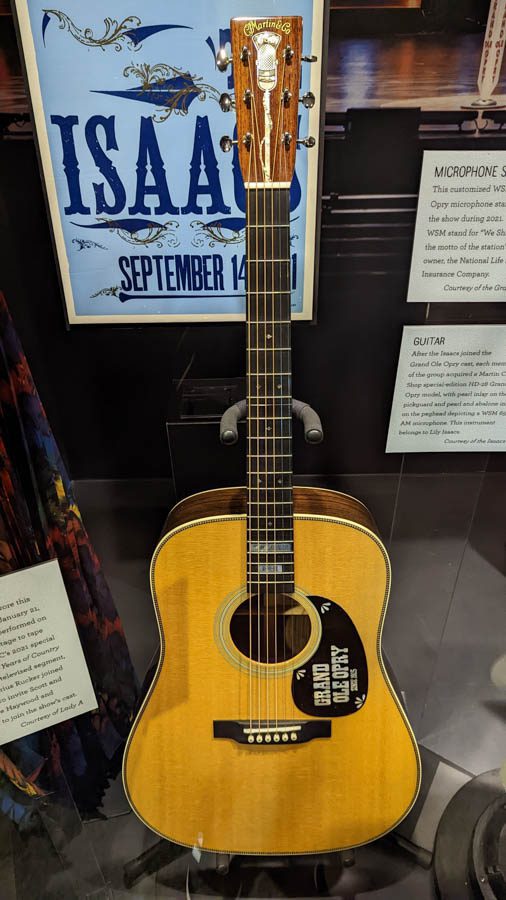 The Isaacs
Martin Custom Shop special-edition HD-28 Grand Ole Opry
After the Isaacs joined the Grand Ole Opry cast, each group member acquired a Martin Custom Shop special-edition HD-28 Grand Ole Opry model, with pearl inlay on the pickguard and pearl and abalone inlay on the peghead depicting a WSM 650 AM microphone. This instrument belongs to Lily Isaacs.
---
Taylor Swift
Taylor 614ce
Taylor Swift used this Taylor 614ce acoustic-electric guitar, with Borrego Red finish and quilted maple back and sides, in the 2021 music video for "I Bet You Think About Me (Taylor's Version)." She also used it on The Red Tour (2013-2014).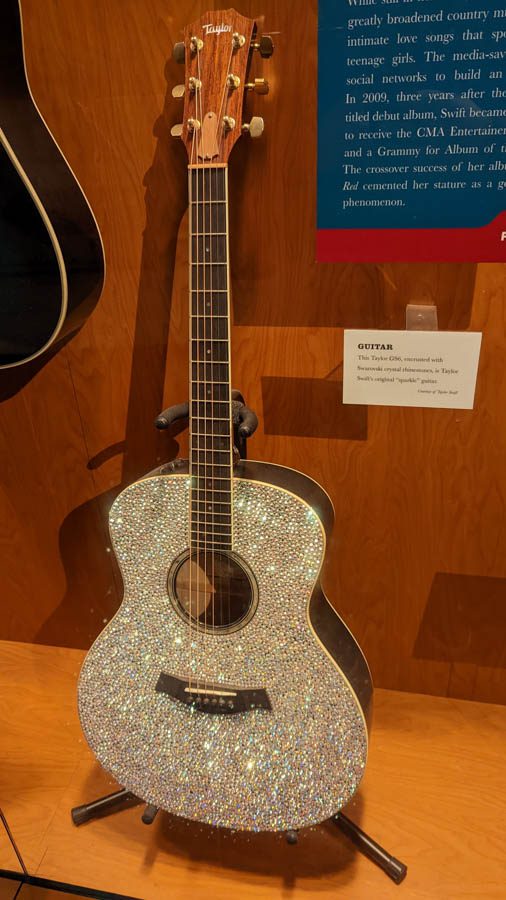 Taylor GS6
This Taylor GS6, encrusted with Swarovski crystal rhinestones, is Taylor Swift's original "sparkle" guitar.
---
Richard Dobson
1969 Gibson Country and Western
Richard Dobson, a Texas-based singer-songwriter who died in 2017, bequeathed this 1969 Gibson Country and Western model to his friend Thomm Jutz. Dobson's name and that of another Texas singer-songwriter, Rich Minus, are carved into the top of the soundboard.
---
Lainey Wilson
Fender Montara acoustic-electric
This Fender Montara acoustic-electric model was Lainey Wilson's first guitar, given to her by her father when she was ten.
---
Jason Aldean
Bently
Jason Aldean's father, Barry Williams, taught him how to make chords on a guitar. Williams gave Aldean this Bently guitar, and the country singer used it early in his performing career.
---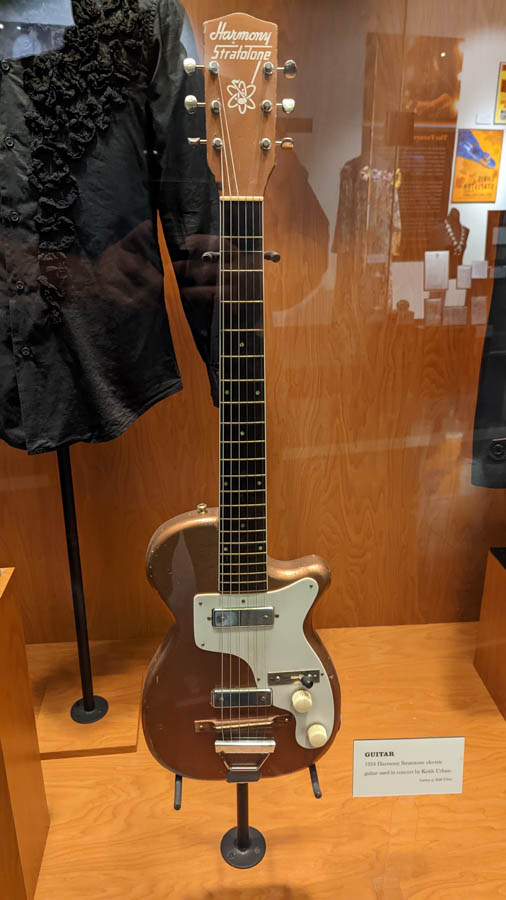 Keith Urban
1954 Harmony Stratotone
1954 Harmony Stratotone electric guitar used in concert by Keith Urban.
---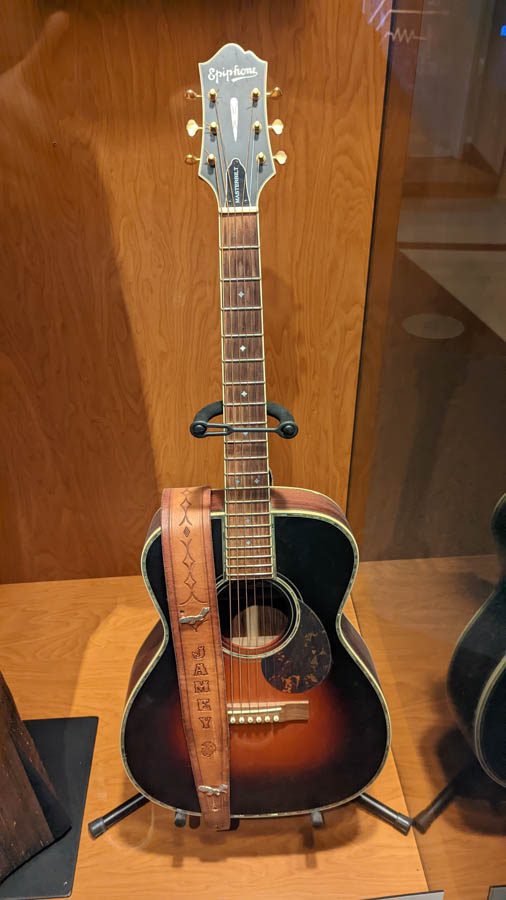 Jamey Johnson
2004 Epiphone Masterbilt
Jamey Johnson's 2004 Epiphone Masterbilt acoustic guitar and custom-made leather guitar strap.
---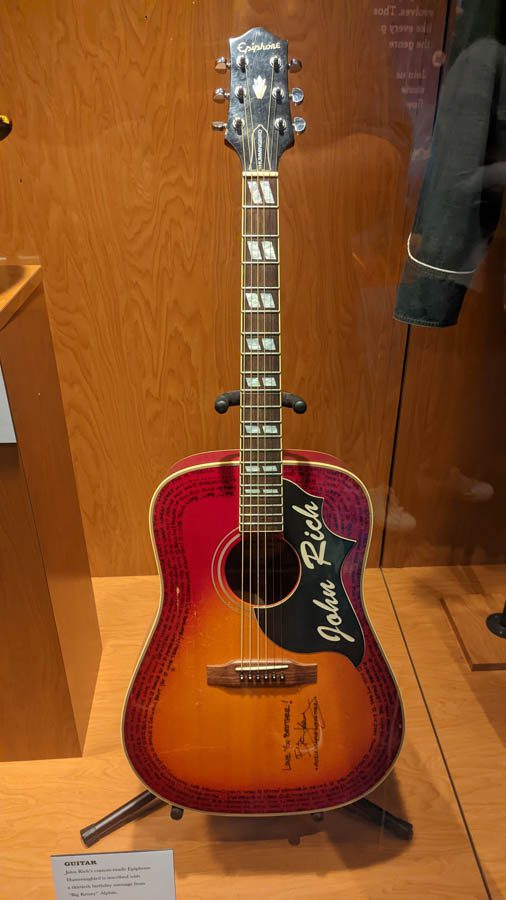 John Rich
Epiphone Hummingbird
John Rich's custom-made Epiphone Hummingbird is inscribed with a thirtieth birthday message from "Big Kenny" Alphin.
---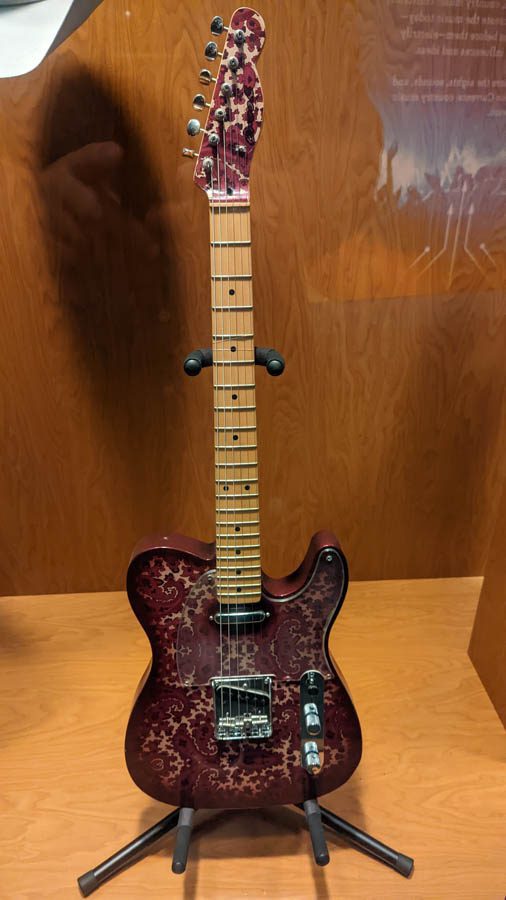 Brad Paisley
Crook Custom
Crook Custom electric guitar with a paisley finish, owned and played by Brad Paisley.
Sears Silvertone
This Sears Silvertone, with an amplifier and speaker built into the case, was Brad Paisley's first guitar. His grandfather Warren Jarvis gave it to Paisley for Christmas when he was eight years old.
---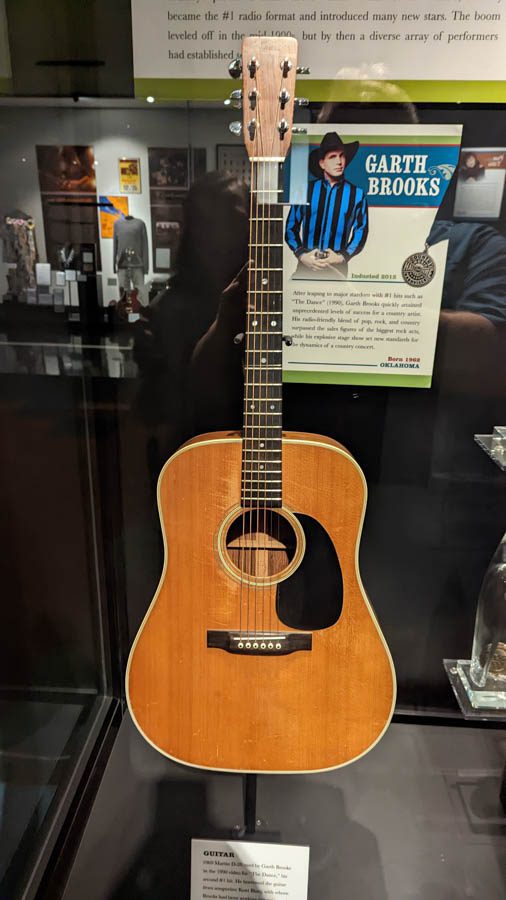 Garth Brooks
1969 Martin D-28
1969 Martin D-28 was used by Garth Brooks in the 1990 video for "The Dance," his second #1 hit. He borrowed the guitar from songwriter Kent Blazy, with whom Brooks had worked just before the video shoot.
---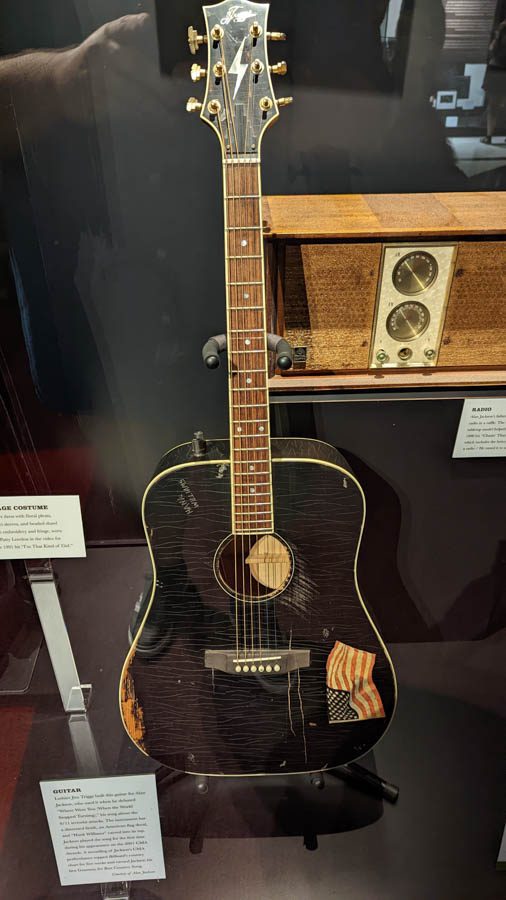 Alan Jackson
Custom J. Triggs
Luthier Jim Triggs built this guitar for Alan Jackson, who used it when he debuted "Where Were You (When the World Stopped Turning)," his song about the 9/11 terrorist attacks. The instrument has a distressed finish, an American flag decal, and "Hank Williams" carved into its top. Jackson played the song for the first time during his appearance at the 2001 CMA Awards. A recording of Jackson's CMA performance topped Billboard's country chart for five weeks and earned Jackson his first Grammy for Best Country Song.
---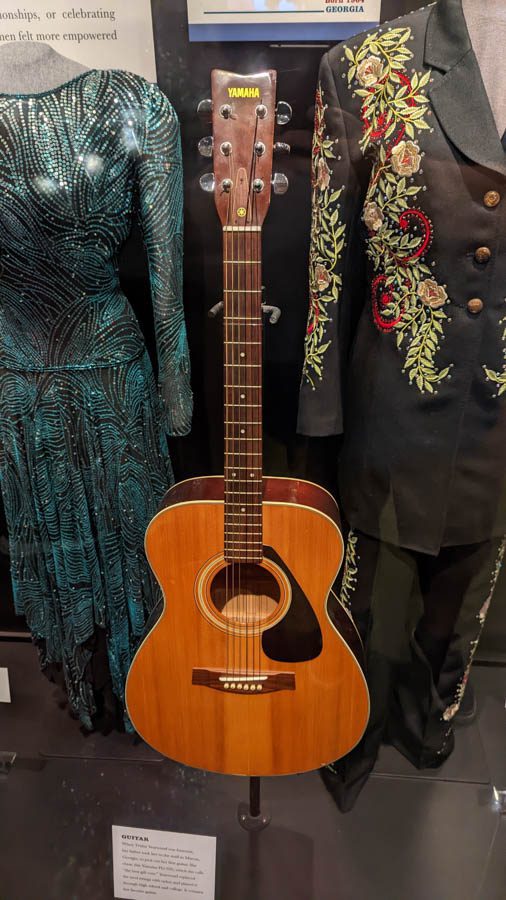 Trisha Yearwood
Yamaha FG-330
When Trisha Yearwood was fourteen, her father took her to the mall in Macon, Georgia, to pick out her first guitar. She chose this Yamaha FG-330, which she calls "the best gift ever." Yearwood replaced the steel strings with nylon and played it through high school and college. It remains her favorite guitar.
---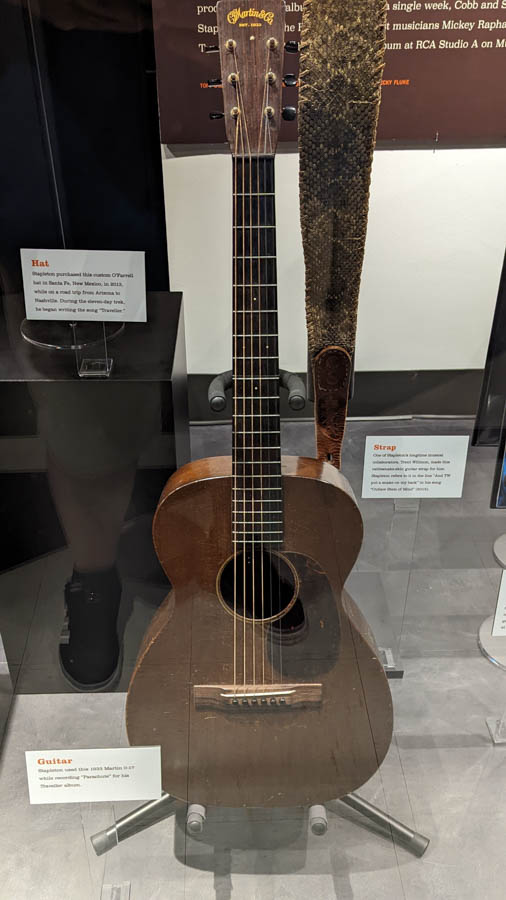 Mary Chapin Carpenter
Gibson J-185
This Gibson J-185 with vintage sunburst finish was custom-made for Mary Chapin Carpenter in 1990.
---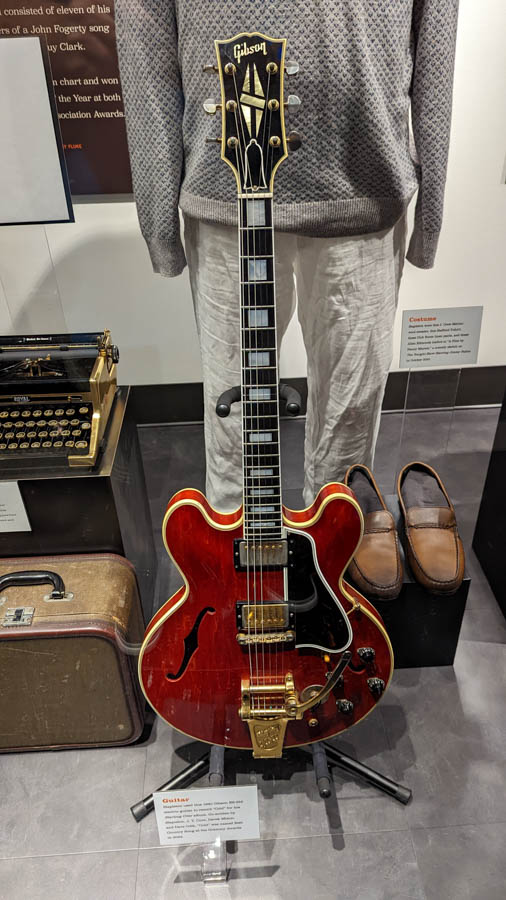 Chris Stapleton
1960 Gibson ES-355
Stapleton used this 1960 Gibson ES-355 electric guitar to record "Cold" for his Starting Over album. Co-written by Stapleton, J. T. Cure, Derek Mixon, and Dave Cobb, "Cold" was named Best Country Song at the Grammy Awards in 2022.
1968 Martin D-28
Co-producer Dave Cobb and Stapleton both used this 1968 Martin D-28 at sessions for 2015's Traveller and 2017's From A Room: Volume 1 and Volume 2. The guitar was also used on albums Cobb produced for Jason Isbell (2013's Southeastern) and Sturgill Simpson (2013's High Top Mountain and 2014's Metamodern Sounds in Country Music), as well as on Southern Family, a 2016 multiple-artist album that included Chris and Morgane Stapleton's version of the Jimmie Davis classic "You Are My Sunshine."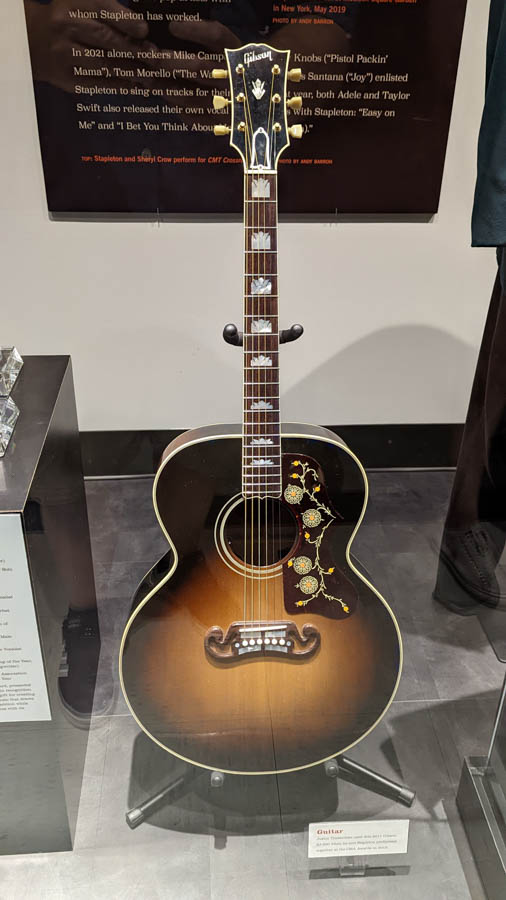 2011 Gibson SJ-200
Justin Timberlake used this 2011 Gibson SJ-200 when he and Stapleton performed together at the CMA Awards in 2015.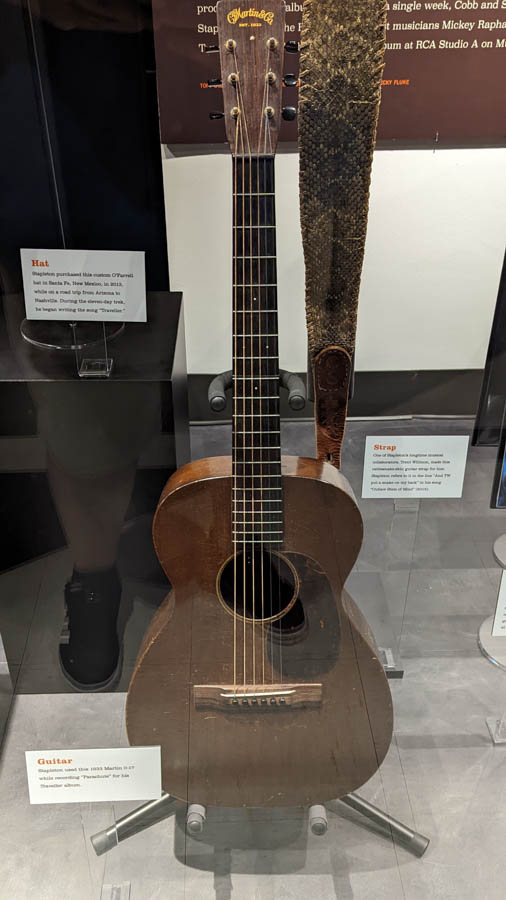 1933 Martin 0-17
Stapleton used this 1933 Martin 0-17 while recording "Parachute" for his Traveller album.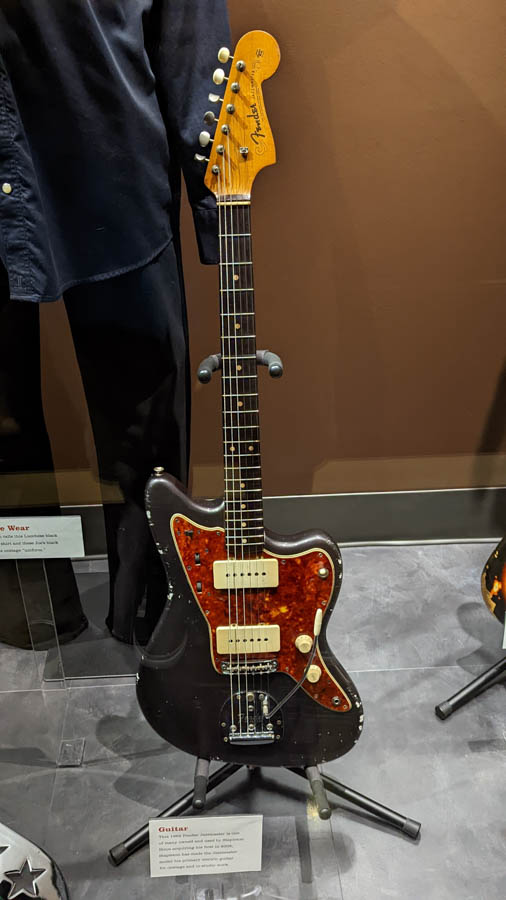 1962 Fender Jazzmaster
This 1962 Fender Jazzmaster is one of many owned and used by Stapleton. Since acquiring his first in 2005, Stapleton has made the Jazzmaster model his primary electric guitar for onstage and in-studio work.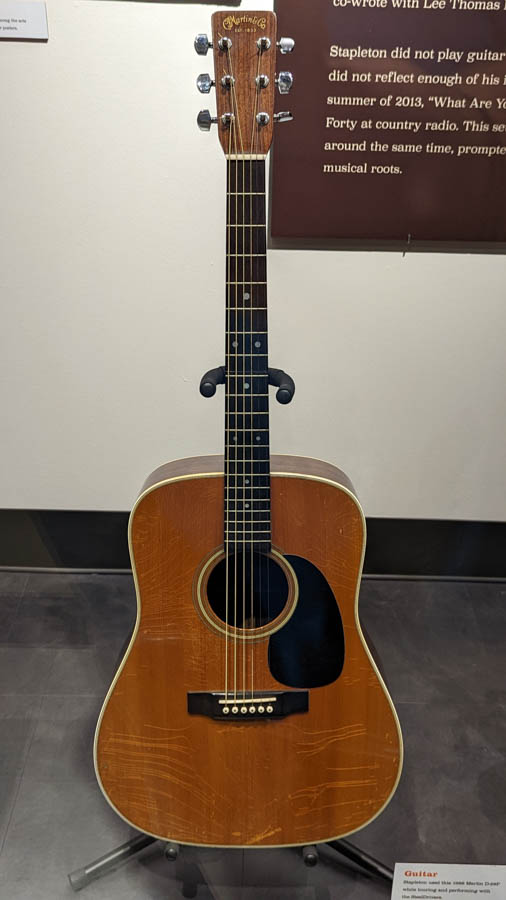 1988 Martin D-28P
Stapleton used this 1988 Martin D-28P while touring and performing with the SteelDrivers.
1930s Gibson Jumbo
Morgane Stapleton gave Chris this 1930s Gibson Jumbo model on their wedding day in October 2007. He used the instrument often when he was in the SteelDrivers.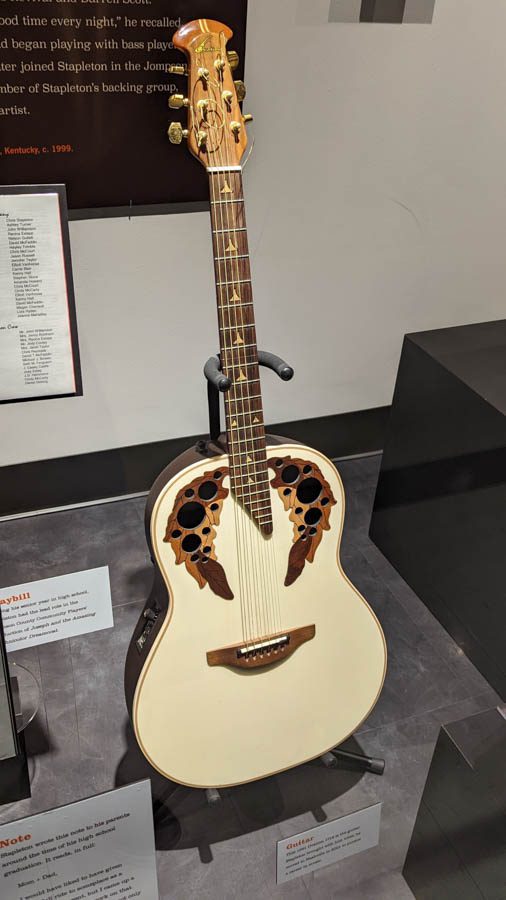 1991 Ovation 1718
This 1991 Ovation 1718 is the guitar Stapleton brought with him when he moved to Nashville in 2001 to pursue a career in music.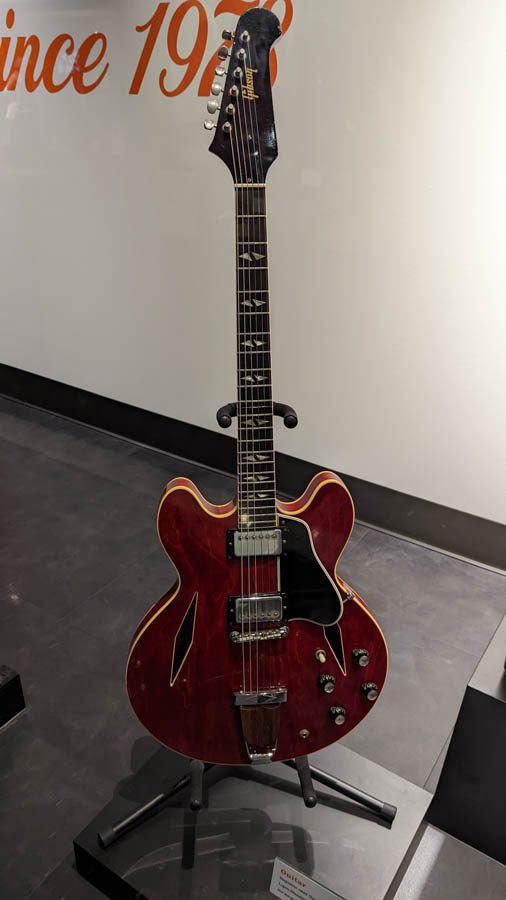 1966 Gibson Trini Lopez Standard
Stapleton used this 1966 Gibson Trini Lopez Standard electric guitar to record the song "Traveller."
---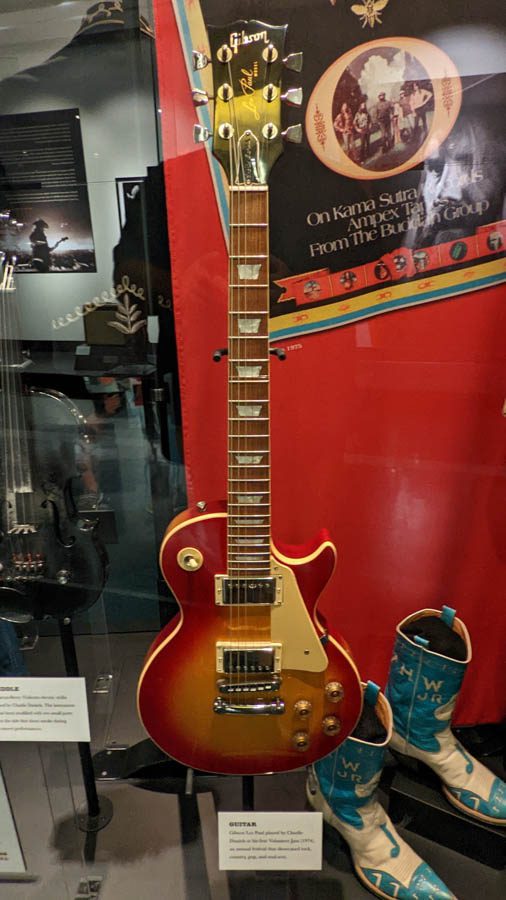 Charlie Daniels
Gibson Les Paul
This Gibson Les Paul was played by Charlie Daniels at his first Volunteer Jam (1974), an annual festival that showcased rock, country, pop, and soul acts.
Mid-1950s Fender Telecaster
Charlie Daniels used this mid-1950s Fender Telecaster at recording sessions for Bob Dylan's albums Nashville Skyline and Self Portrait.
---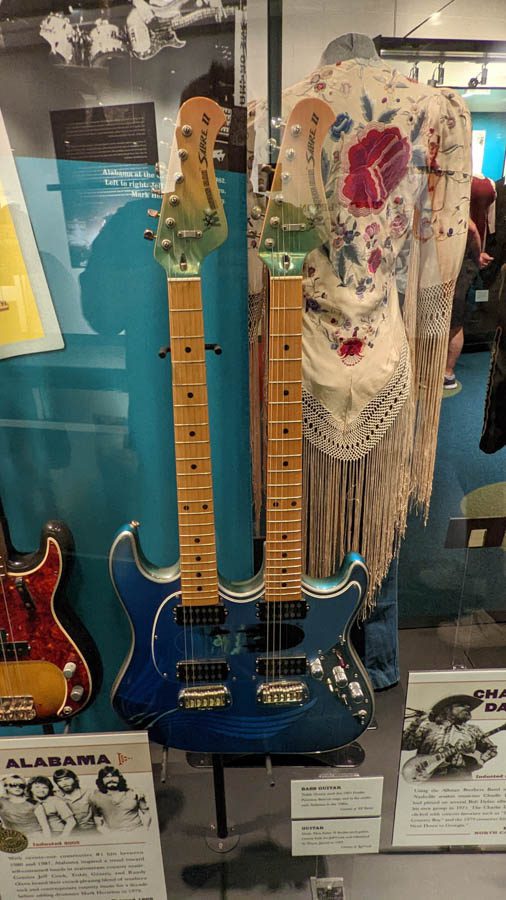 Jeff Cook
Music Man Sabre II Double-Neck
This Music Man Sabre II double-neck guitar was custom built for Jeff Cook and refinished by Wayne Jarrett in 1983.
---
Don Williams
1973 Ovation Legend model 1617-4
Don Williams's 1973 Ovation Legend model 1617-4 guitar, with handwritten concert set list taped to the side.
---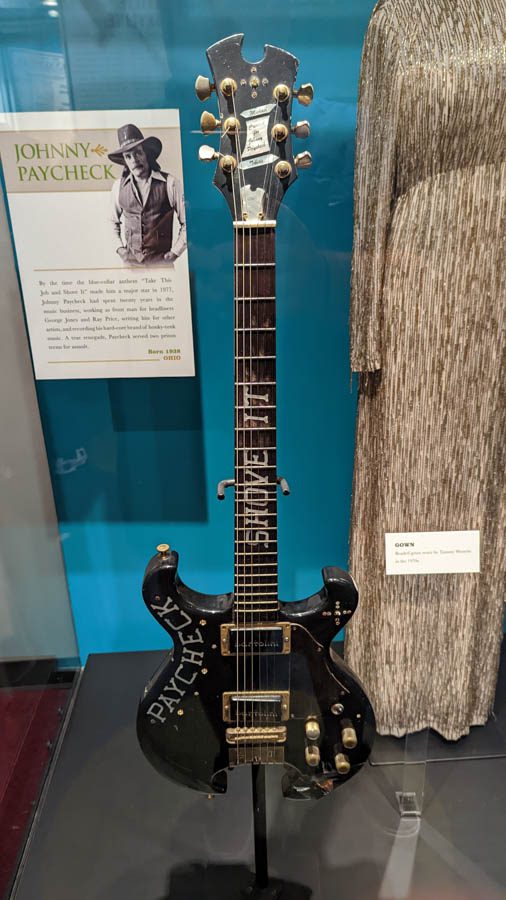 Johnny Paycheck
Custom-Made Tobias
Johnny Paycheck's custom-made Tobias electric guitar saluted the singer's signature song, "Take This Job and Shove It," written by fellow Outlaw David Allan Coe.
---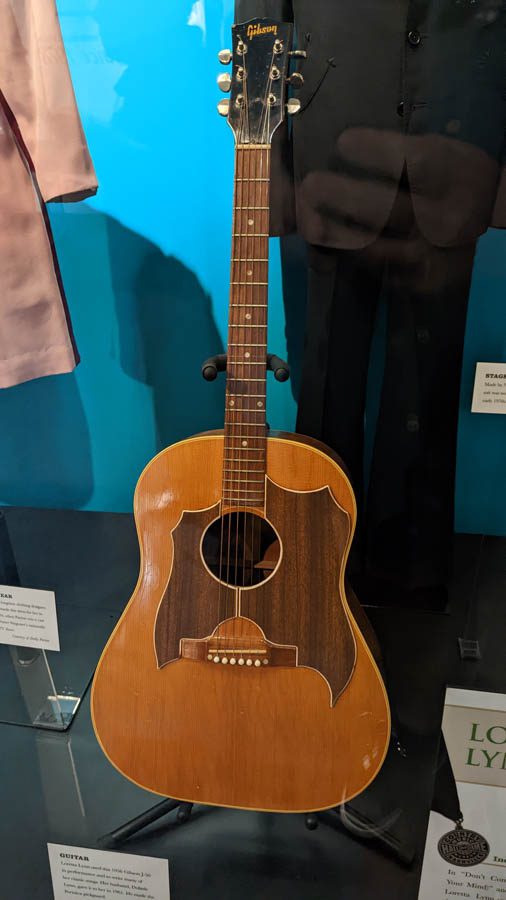 Loretta Lynn
1956 Gibson J-50
Loretta Lynn used this 1956 Gibson J-50 in performance and to write many of her classic songs. Her husband, Dolittle Lynn, gave it to her in 1961. He made the oversized Formica double pickguard.
---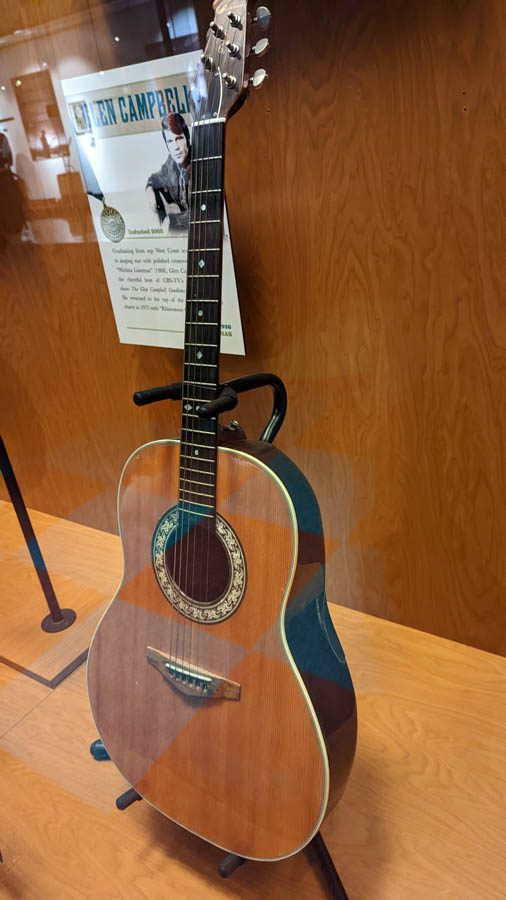 Glen Campbell
1968 Ovation Deluxe Balladeer
Glen Campbell used this 1968 Ovation Deluxe Balladeer guitar in his starring role in the Hollywood film Norwood (1970). Campbell began endorsing Ovation guitars in 1968 and used them throughout his career.
---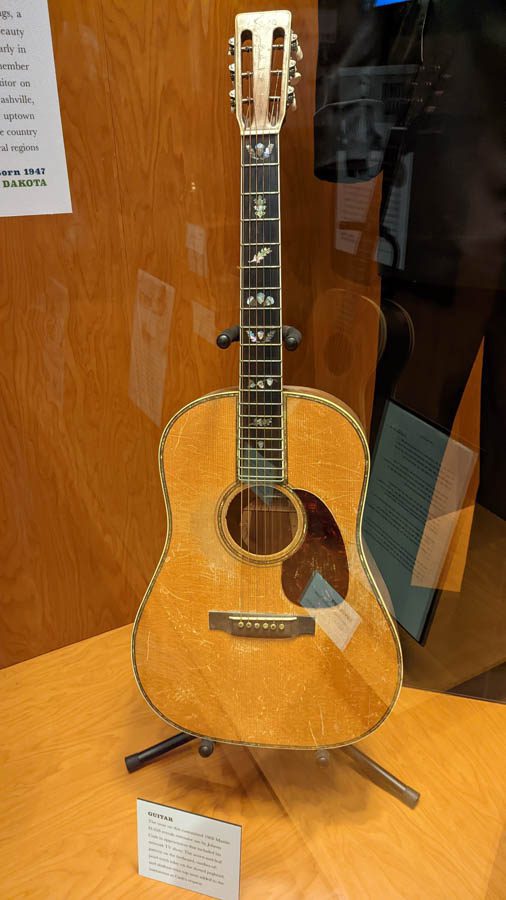 Johnny Cash
1968 Martin D-35S
The wear on this customized 1968 Martin D-35S reveals extensive use by Johnny Cash in appearances that included his network TV show. The acorn-and-leaf pattern on the fretboard, mother-of-pearl torch inlay on the slotted peghead, and abalone-trim top were added to the instrument at Cash's request.
---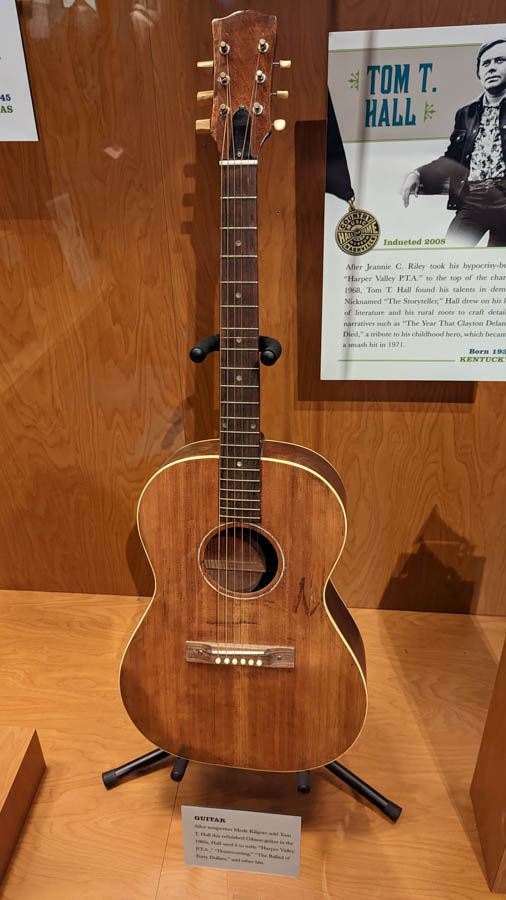 Tom T. Hall
Refinished Gibson
After songwriter Merle Kilgore sold Tom T. Hall this refinished Gibson guitar in the 1960s, Hall used it to write "Harper Valley P.T.A.," "Homecoming," "The Ballad of Forty Dollars," and other hits.
---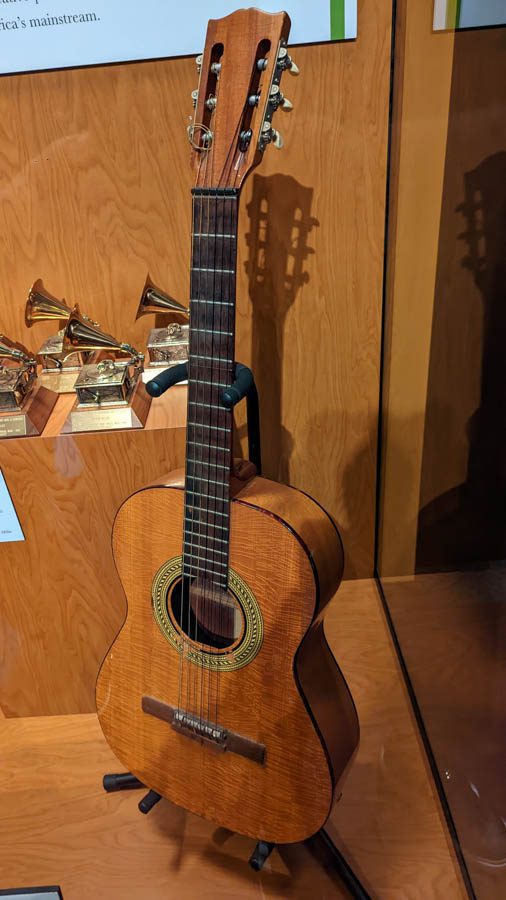 Roger Miller
963 Gibson C-0
Roger Miller used this 1963 Gibson C-0 classical guitar to write "King of the Road."
---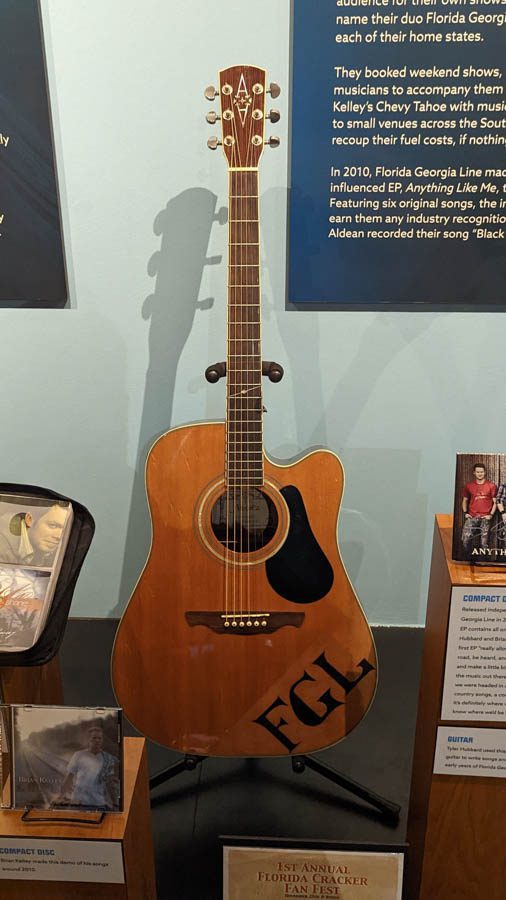 Florida Georgia Line
Alvarez AD-60SC
Tyler Hubbard used this Alvarez AD-60SC guitar to write songs and perform in the early years of Florida Georgia Line.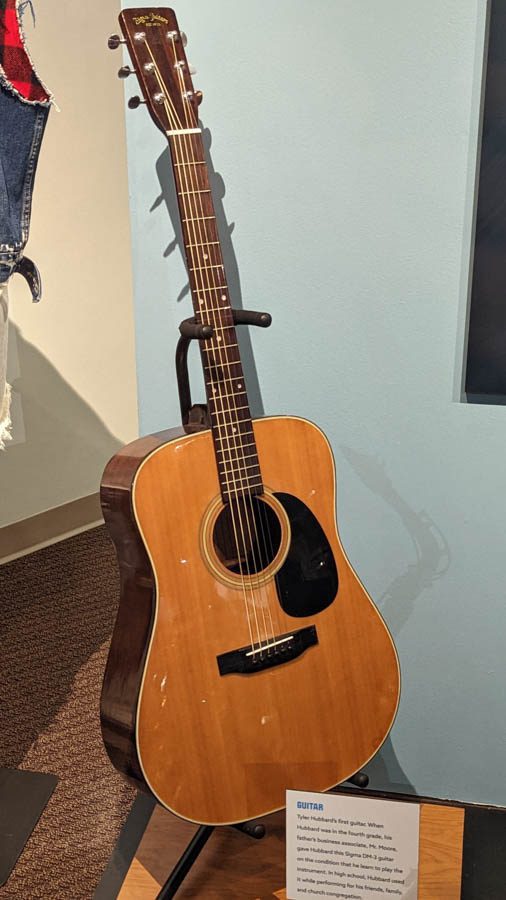 Sigma DM-3
Tyler Hubbard's first guitar. When Hubbard was in the fourth grade, his father's business associate, Mr. Moore, gave Hubbard this Sigma DM-3 guitar on the condition that he learn to play the Instrument. In high school, Hubbard used it while performing for his friends, family, and church congregation.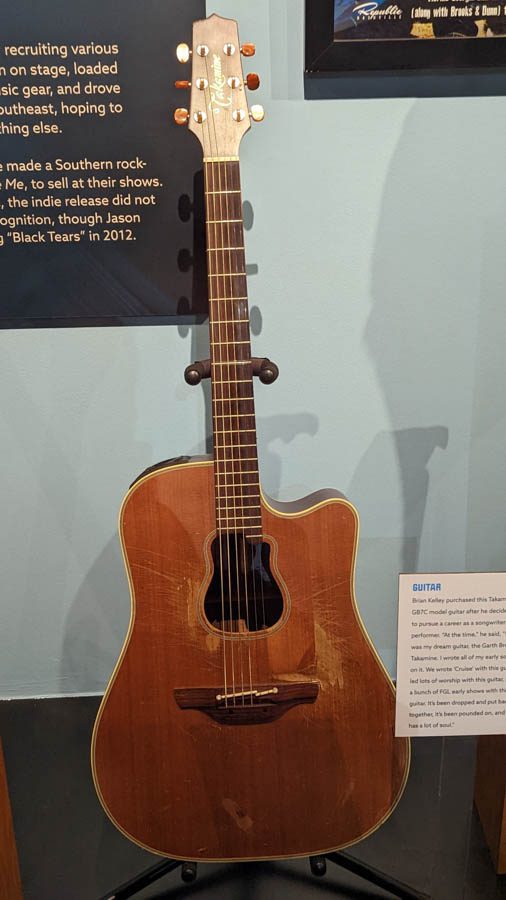 Takamine GB7C
Brian Kelley purchased this Takamine GB7C model guitar after he decided to pursue a career as a songwriter and performer. "At the time," he said, "it was my dream guitar, the Garth Brooks Takamine. I wrote all of my early songs on it. We wrote 'Cruise' with this guitar and led lots of worship with this guitar, and a bunch of early FGL shows with this guitar. It's been dropped and put back together. It's been pounded on and has a lot of soul."
---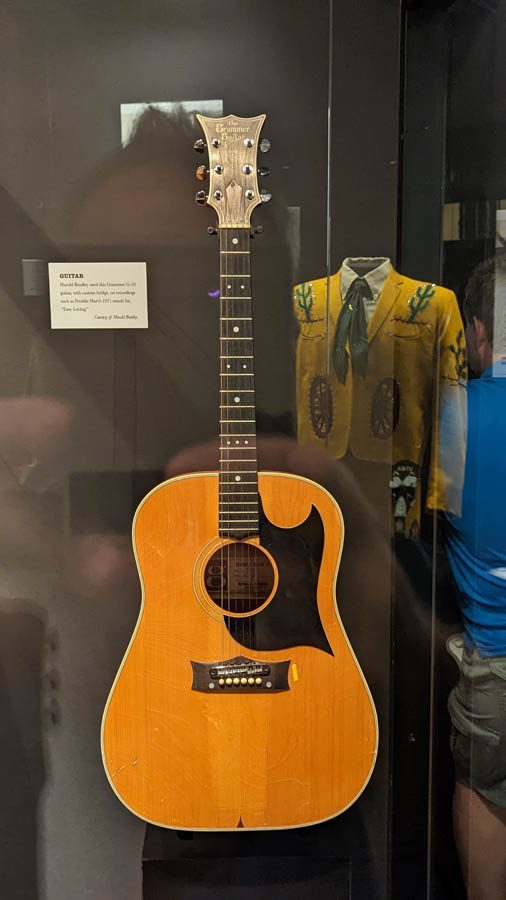 Harold Bradley
Grammer G-10 guitar
Harold Bradley used this Grammer G-10 guitar, with custom bridge, on recordings such as Freddie Hart's 1971 smash hit, "Easy Loving."
---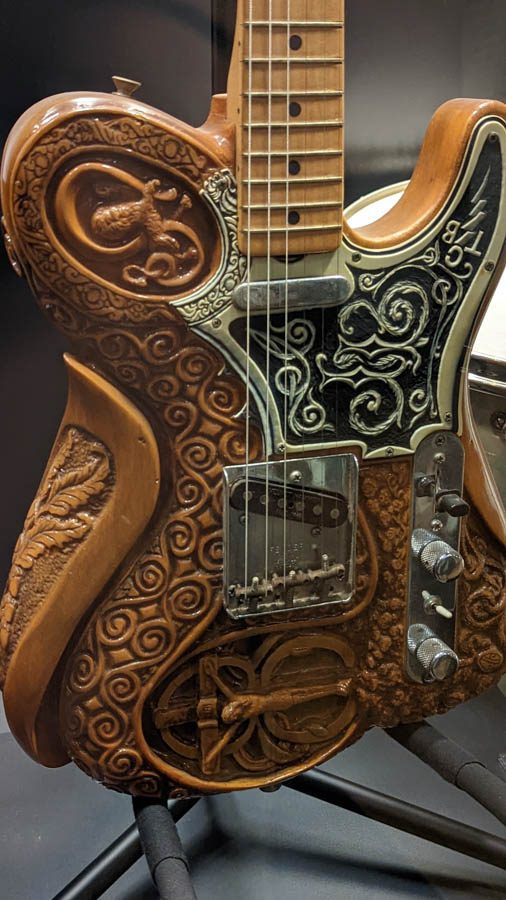 James Burton
1964 Fender Telecaster
Built in 1964, James Burton's Fender Telecaster was transformed in 1972 by wood carver and sculptor Doug Rowell. His carvings include a lion's head representing Burton's zodiac sign, Leo, and a crucifix. Burton's initials and Elvis Presley's "TCB" (Taking Care of Business) symbol are molded into the pickguard. At the time, Burton was a member of Presley's TCB Band. Burton can be seen holding the guitar with its original finish and shape on the cover of the 1968 album Corn Pickin' and Slick Slidin."
---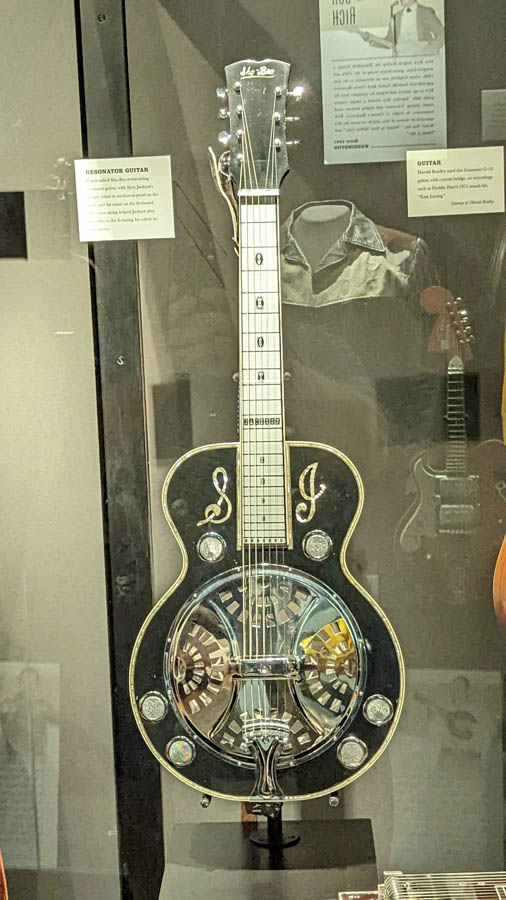 Shot Jackson
Sho-Bro seven-string resonator
Handcrafted Sho-Bro seven-string resonator guitar, with Shot Jackson's initials inlaid in mother-of-pearl on the body and his name on the fretboard. The extra string helped Jackson play melodies in the E-tuning for which he was known.
---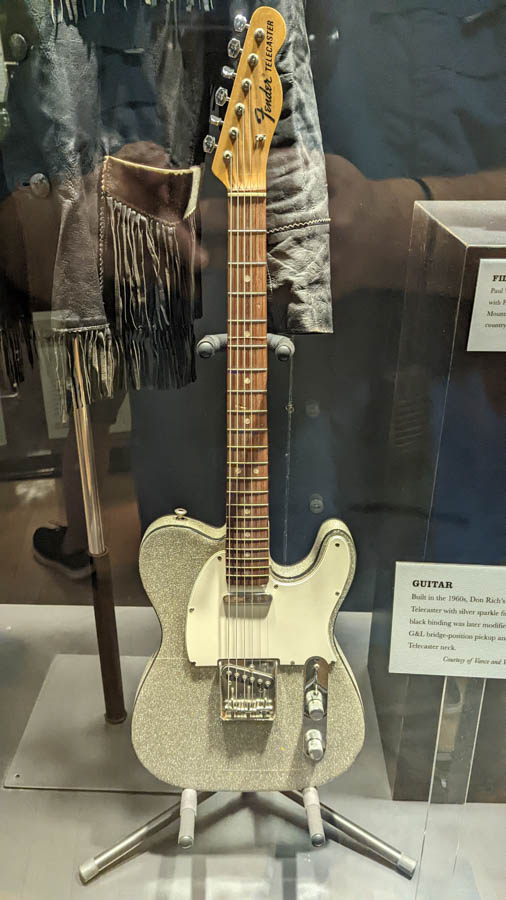 Don Rich
1960s Fender Telecaster
Built in the 1960s, Don Rich's Fender Telecaster with silver sparkle finish and black binding was later modified with a G&L bridge-position pickup and a 1970 Telecaster neck.
---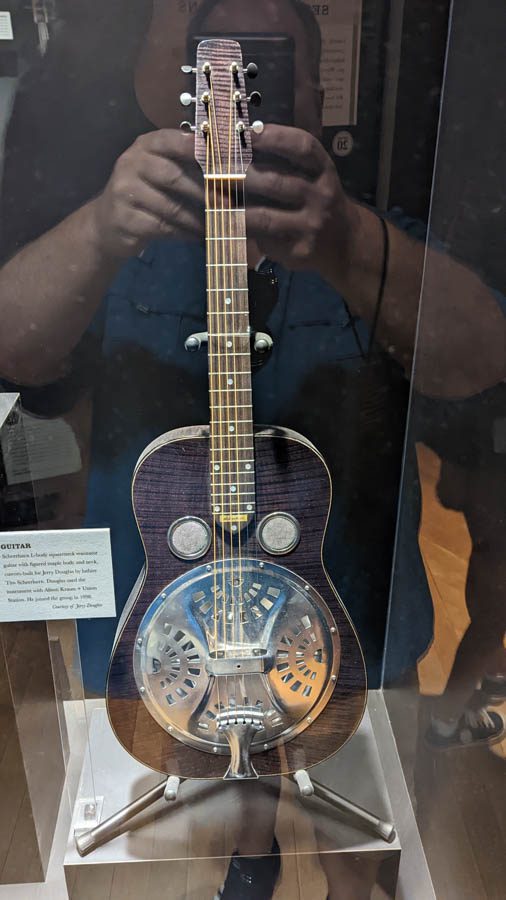 Jerry Douglas
Scheerhorn L-body Squareneck Resonator
Scheerhorn L-body squareneck resonator guitar with figured maple body and neck, custom-built for Jerry Douglas by luthier Tim Scheerhorn. Douglas used the instrument with Alison Krauss + Union Station. He joined the group in 1998.
---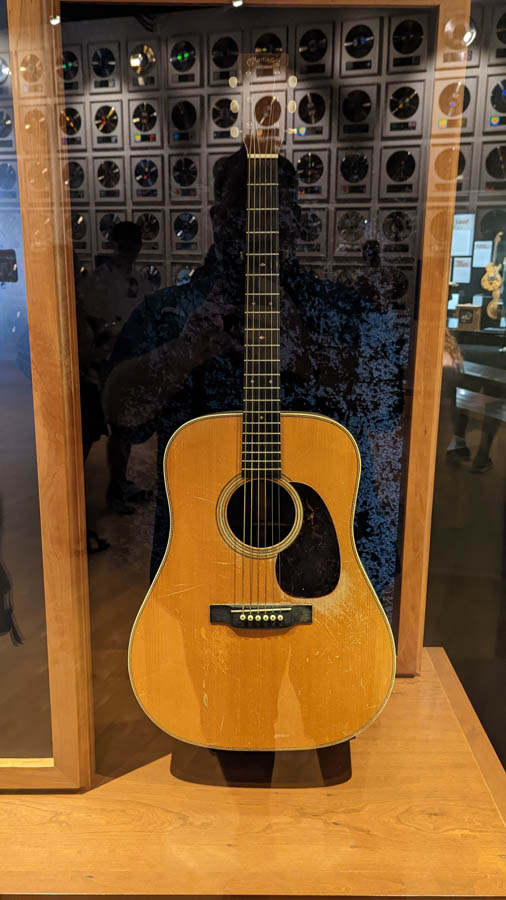 Hank Williams
1944 Martin D-28
Hank Williams used this 1944 Martin D-28 guitar to create his unsurpassed legacy as a country singer and songwriter. Among the instruments he owned, this is regarded as his finest. The scratches on its top reflect the wear and tear of countless personal appearances made by the charismatic Williams, everywhere from nightclubs and outdoor concerts to national television.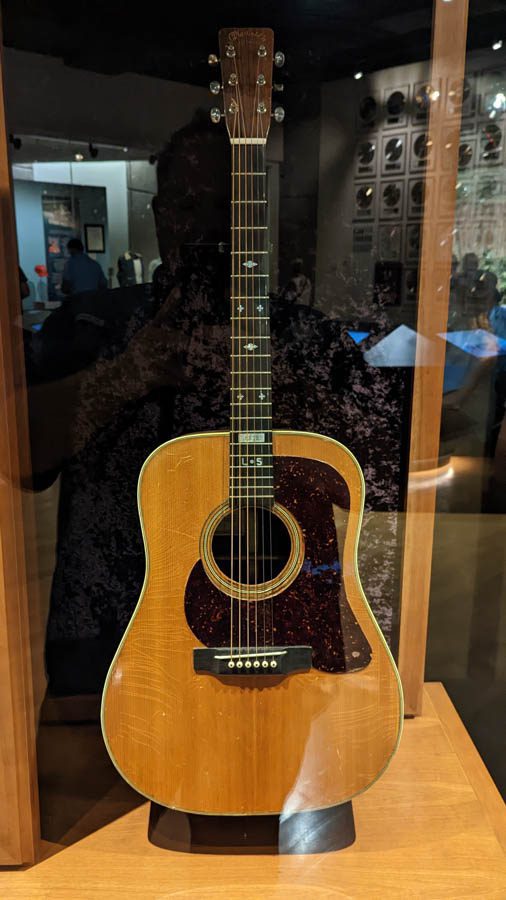 Lester Flatt
1950 Martin D-28
As a key member of Bill Monroe's Blue Grass Boys in the 1940s and then as a partner to Earl Scruggs from 1948 to 1969, Lester Flatt helped shape and popularize bluegrass music. His warm vocals and solid rhythm playing were closely associated with this 1950 Martin D-28 guitar, customized with an enlarged pickguard, pearl inlays, and his name on the fretboard. After Flatt purchased the instrument in 1956 from a West Virginia pawnshop, he used it on most Flatt & Scruggs recordings and performances.
The Carter Family
1928 Gibson L-5
In 1928, with money from the Carter Family's successful first recordings, nineteen-year-old Maybelle Carter paid $275 for the finest guitar she could find, this 1928 Gibson L-5 model. Until her death in 1978, "Mother Maybelle" used it on hundreds of recordings, radio and television programs, and live appearances.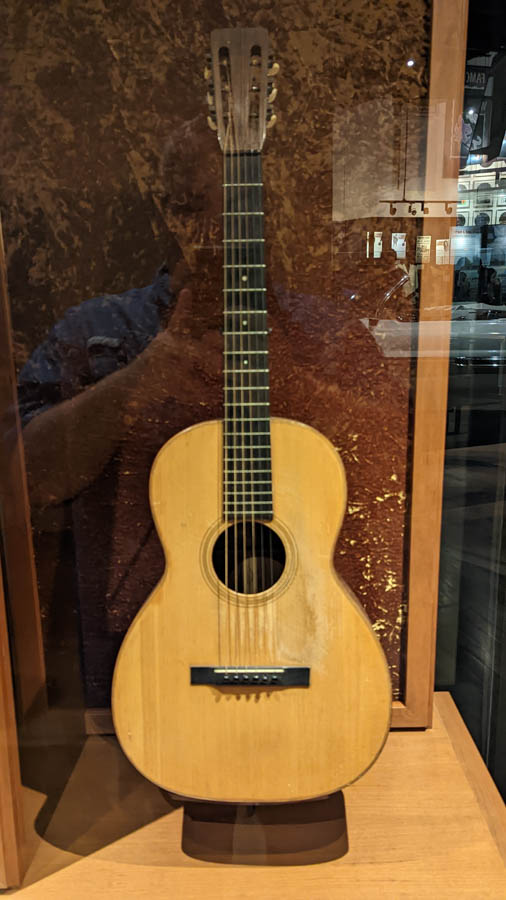 Jimmie Rodgers
Martin 00-18
On August 4, 1927, at a makeshift studio in a former furniture store in Bristol, on the Virginia-Tennessee border, an unknown singer from Mississippi made his first recordings for Victor Records. Accompanying himself on this plain-looking but elegantly designed mahogany and spruce Martin 00-18 guitar, Jimmie Rodgers recorded two songs that day, "The Soldier's Sweetheart" and "Sleep Baby Sleep." Released two months later, they launched a recording career that would turn him into country music's first superstar.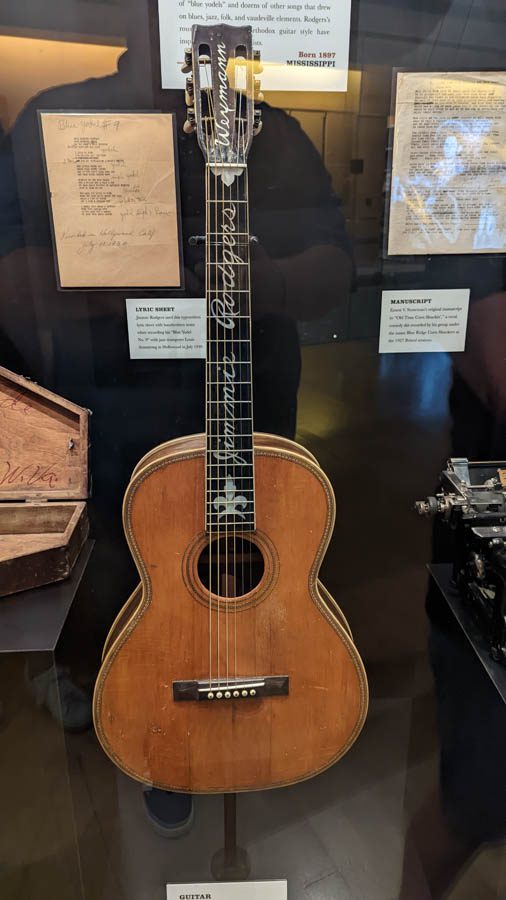 Custom Weymann
After his late 1927 recording "Blue Yodel" launched him to national stardom, Jimmie Rodgers acquired this custom Weymann guitar, with his name inlaid in pearl on the fretboard.
---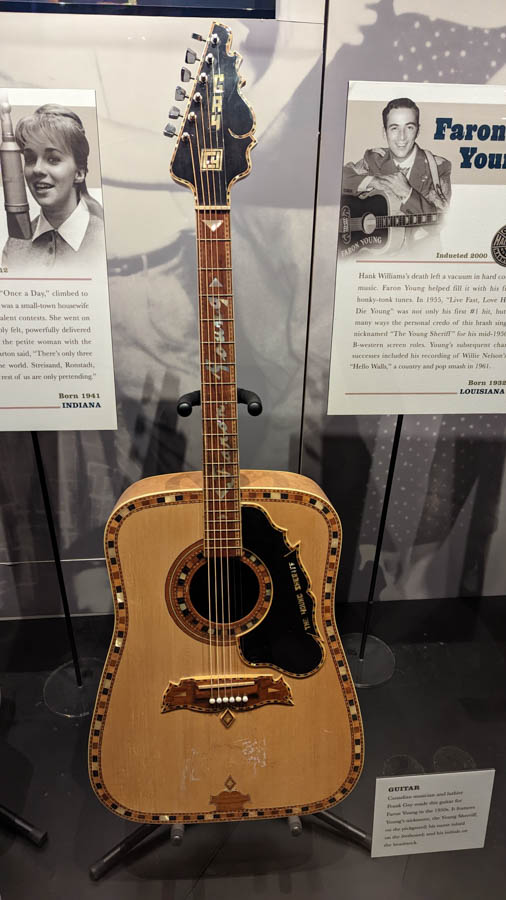 Faron Young
Custom 1950's Gay
Canadian musician and luthier Frank Gay made this guitar for Faron Young in the 1950s. It features Young's nickname, the Young Sherriff, on the pickguard, his name inlaid on the fretboard, and his initials on the headstock.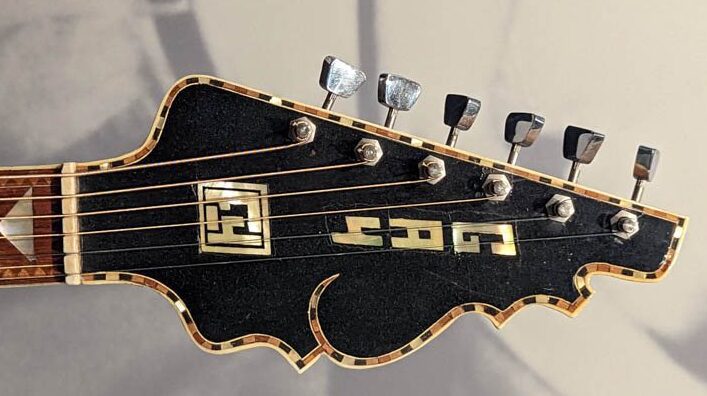 ---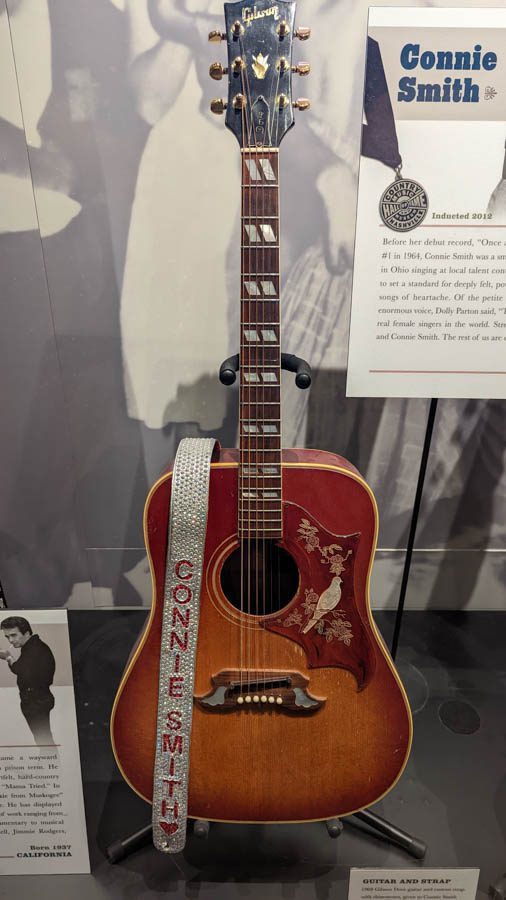 Connie Smith
1968 Gibson Dove
This 1968 Gibson Dove guitar and custom strap with rhinestones were given to Connie Smith by her husband, musician Marty Stuart, to replace the nearly identical guitar and strap stolen from her dressing room before a Grand Ole Opry appearance.
---
Buck Owens
1960s Sears, Roebuck, and Co. Buck Owens American
In the late 1960s, Sears, Roebuck, and Co. marketed an inexpensive guitar modeled after Buck Owens's trademark red, white, and blue Mosrite acoustic flat-top. One of the first made, this Buck Owens American was owned and used by its namesake.
---
Wanda Jackson
1959 Martin D-28
Wanda Jackson's 1959 Martin D-28.
---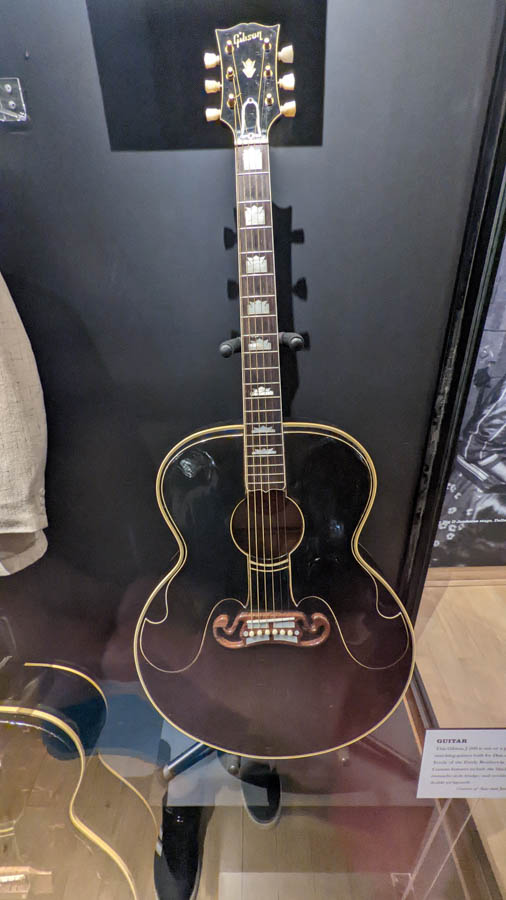 The Everly Brothers
Gibson J-200
This Gibson J-200 is one of a pair of matching guitars built for Don and Phil Everly of the Everly Brothers in 1957. Custom features include the black finish, mustache-style bridge, and oversized double pickguards.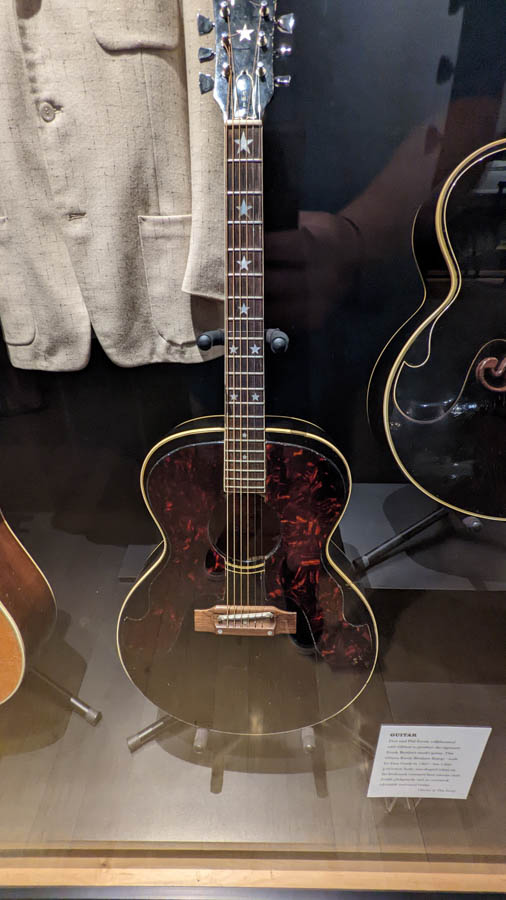 1963 Gibson Everly Brothers
Don and Phil Everly collaborated with Gibson to produce the signature Everly Brothers model guitar. This Gibson Everly Brothers flattop built for Don Everly in 1963 has a thin J-185-style body, star-shaped inlays on the fretboard, oversized faux tortoise shell double pickguards, and an oversized, adjustable rosewood bridge.
---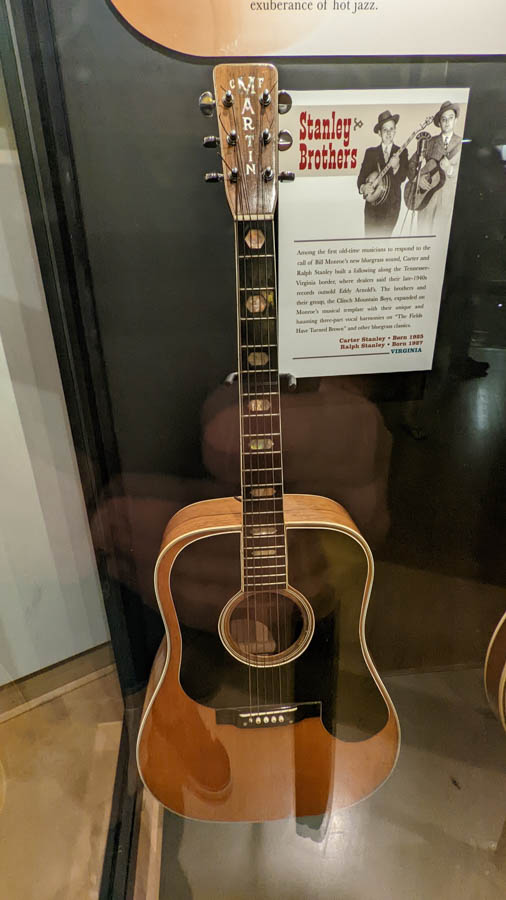 The Stanley Brothers
Modified 1958 Martin D-28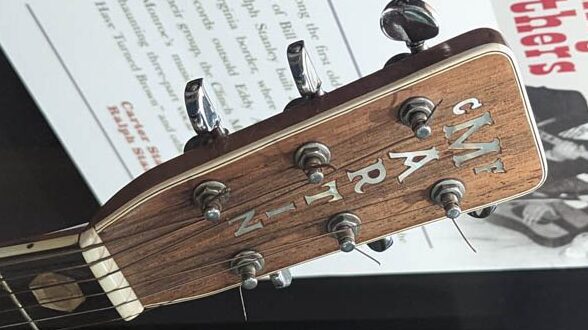 Carter Stanley of the Stanley Brothers used this modified 1958 Martin D-28 with a custom pickguard and D-45 neck.
---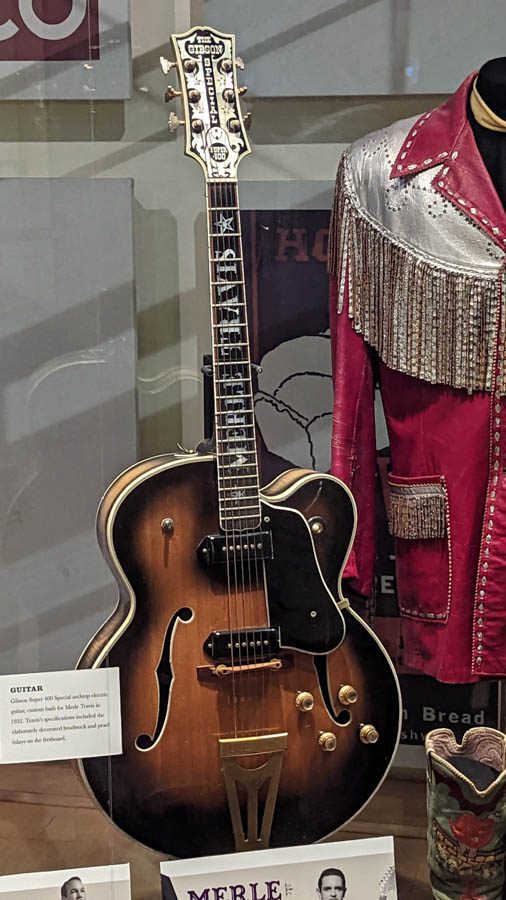 Merle Travis
Gibson Super 400 Special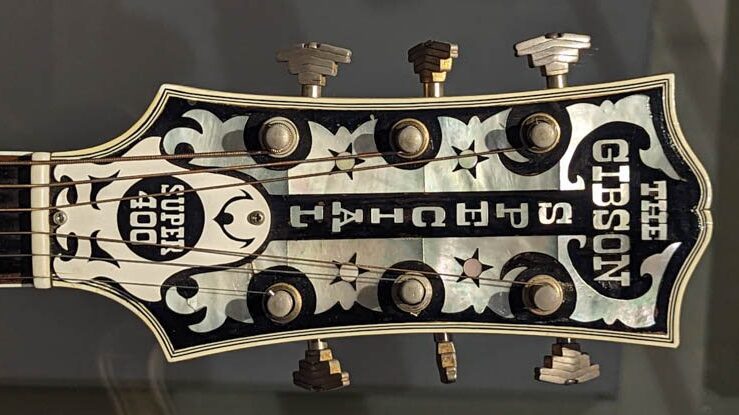 The Gibson Super 400 Special archtop electric guitar was custom built for Merle Travis in 1952. Travis's specifications included the elaborately decorated headstock and pearl inlays on the fretboard.
---
Eddy Arnold
Custom 1967 Gibson J-200N
Eddy Arnold's custom 1967 Gibson J-200N, with his name inlaid in pearl on the fretboard. This is almost an exact duplicate of the 1948 Gibson that Arnold used earlier in his career.
---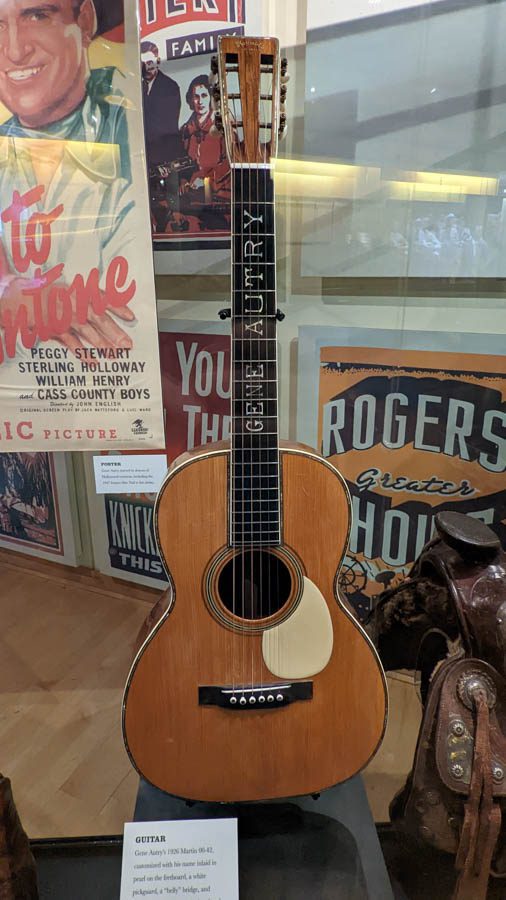 Gene Autry
1926 Martin 00-42
Gene Autry's 1926 Martin 00-42, customized with his name inlaid in pearl on the fretboard, a white pickguard, a "belly" bridge, and a bound pearl border on the headstock.
---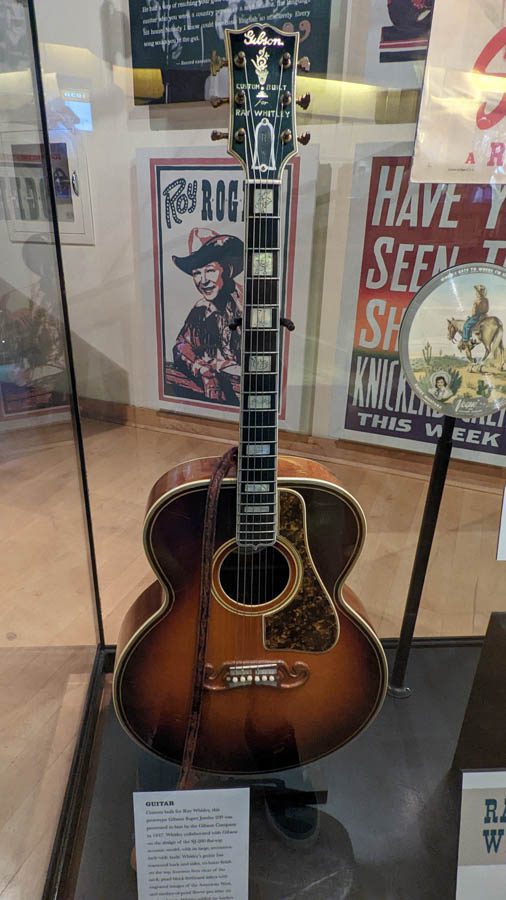 Ray Whitley
Gibson Super Jumbo 200
Custom built for Ray Whitley, this prototype Gibson Super Jumbo 200 was presented to him by the Gibson Company in 1937. Whitley collaborated with Gibson on the design of the SJ-200 flat-top acoustic model, with its large, seventeen-inch wide body. Whitley's guitar has rosewood back and sides, tri-burst finish on the top, fourteen frets clear of the neck, pearl block fretboard inlays with engraved images of the American West, and mother-of-pearl flower pot inlay on the headstock. Whitley added the leather guitar strap later.
---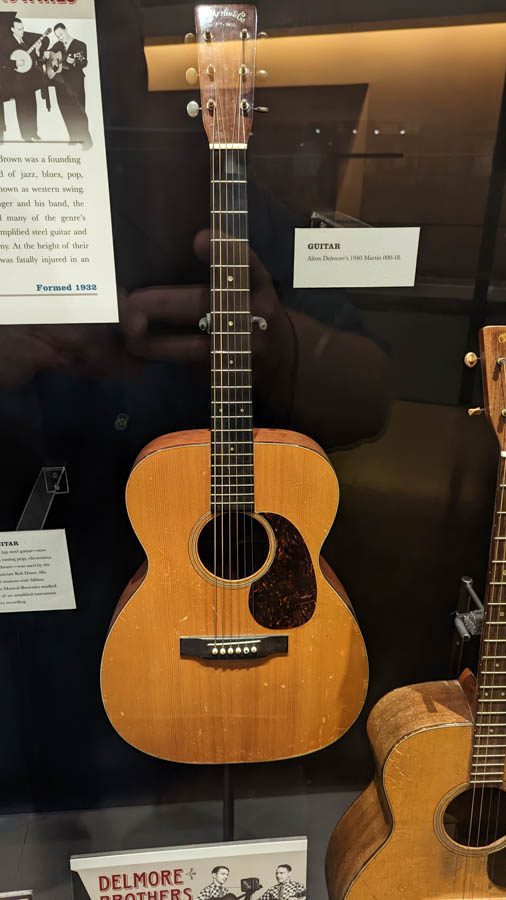 Alton Delmore
1940 Martin 000-18
This is Alton Delmore's 1940 Martin 000-18.
---
Bonnie Dodd
Steel-bodied National Resonator
Inspired by Hawaiian guitar music, Bonnie Dodd played this steel-bodied National resonator guitar in the 1930s. The instrument has a tri-cone resonator system that is several times louder than a standard acoustic guitar.
---
Bill Anderson
Custom built by Crafters of Tennessee
Custom built by Crafters of Tennessee, this guitar with engraved, mother-of-pearl pickguard and ornate mother-of-pearl inlays on the fingerboard and headstock was a gift to Anderson from vintage-guitar collector Mac Yasuda in the early 1990s. Anderson has used it extensively on stage.
1958 Martin D-28
Anderson purchased this 1958 Martin D-28 at the Hank Snow Music Center in Nashville in 1959. For years the guitar served as what Anderson called his "second voice." He used it extensively on stage, in the studio, and to write songs, including "Still," "The Tips of My Fingers," "Po' Folks," and "Once a Day."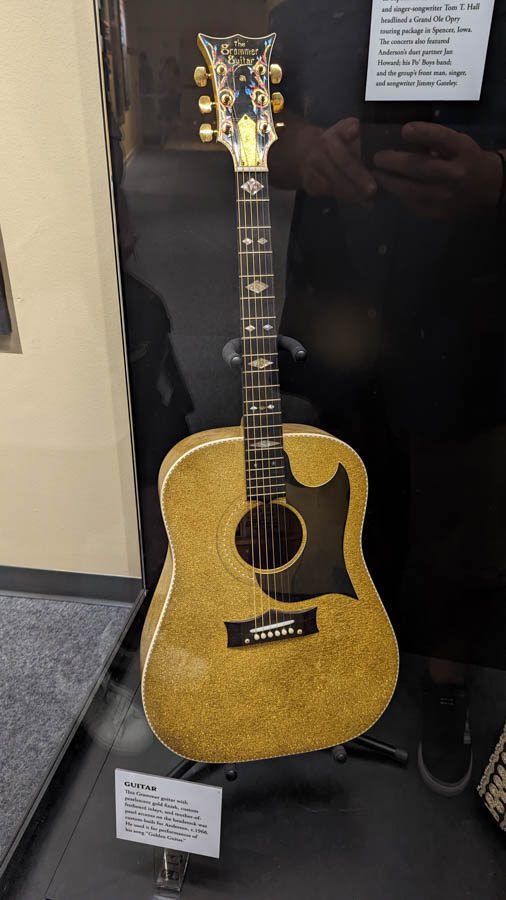 1966 Custom Grammer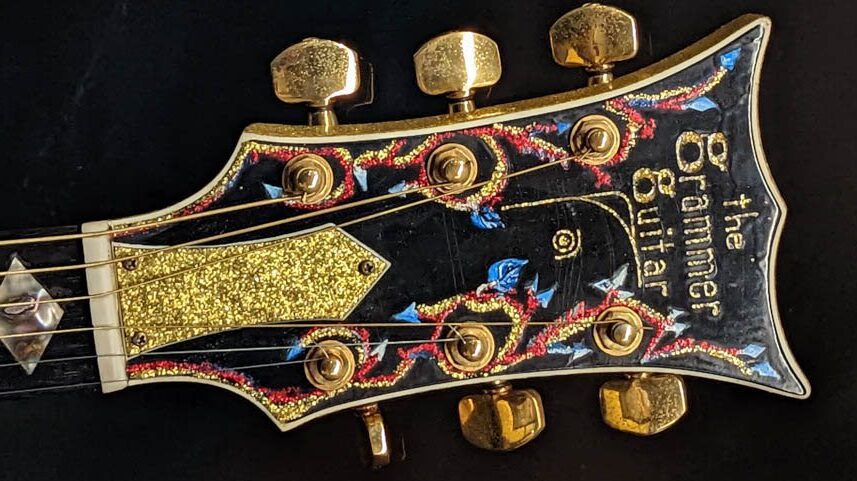 This Grammer guitar with pearlescent gold finish, custom fretboard inlays, and mother-of-pearl accents on the headstock was custom-built for Anderson, c.1966. He used it for performances of his song "Golden Guitar."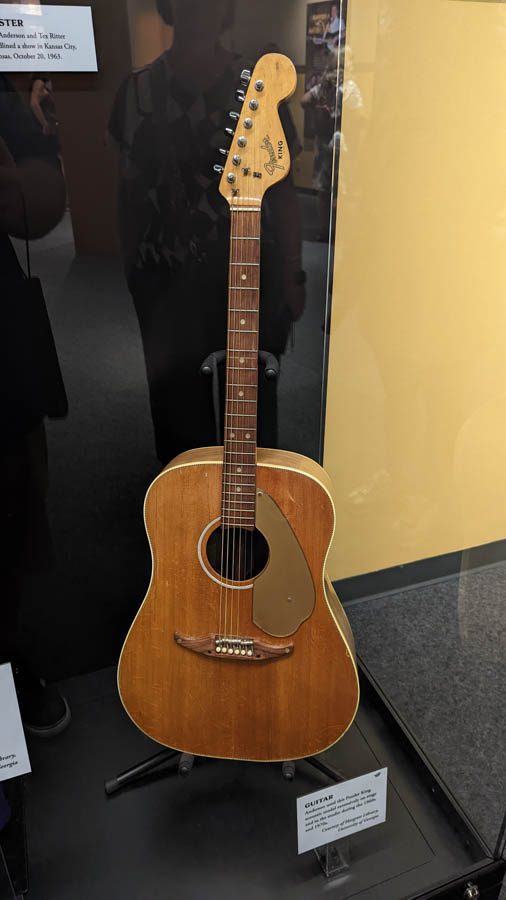 Fender King
Anderson used this Fender King acoustic model extensively on stage and in the studio during the 1960s and 1970s.
---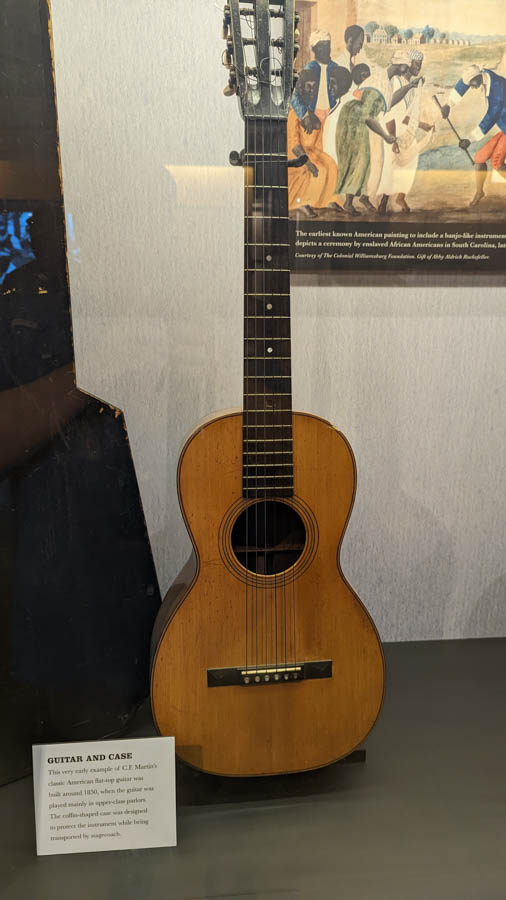 1850's Vintage
Very Early C. F. Martin
This very early example of C.F. Martin's classic American flat-top guitar was built around 1850 when the guitar was played mainly in upper-class parlors. The coffin-shaped case was designed to protect the instrument while being transported by stagecoach.
Final thoughts on the Guitars of the Country Music Hall of Fame
The 1850s C. F. Martin above was the oldest guitar I found at the Country Music Hall of Fame. I hope you enjoyed this wonderful collection of historic country music guitars.
Until next time, I'll see you in the studio.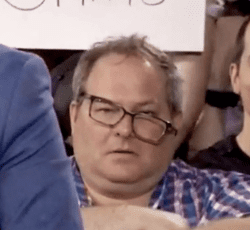 Latest posts by Juan Louder
(see all)
SoundStudiomagic.com is a participant in the Amazon Services LLC Associates Program, an affiliate advertising program designed to provide a means for sites to earn advertising fees by advertising and linking to Amazon.com. We also participate in other affiliate programs which compensate us for referring traffic.